Publication:
Populism and feminist politics: The cases of Finland and Spain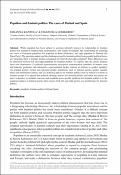 Authors
Advisors (or tutors)
Editors
Abstract
While populism has been subject to growing scholarly interest, its relationship to feminist politics has remained conspicuously understudied. This article investigates this relationship by analysing two cases of European populism: left populism in Spain (Podemos), and right populism in Finland (the Finns Party). The questions asked, and the challenges posed to feminist politics from populist political forces are intriguing: How is feminist politics articulated in both left and right populism? What differences can be discerned between left and right populism for feminist politics? To explore this, the article analyses three core dimensions: (1) political representation: descriptive representation (numbers of women, men and minority positions) and substantive representation (policy content in relation to gender equality); (2) populist parties' formal and informal gender institutions such as internal quotas, gender equality plans and institutional culture; and (3) dedicated spaces for feminist politics such as women's sections or feminist groups. It is argued that political ideology matters for feminist politics, and while left parties are more responsive to feminist concerns and populism poses specific problems for feminist politics, it is the gendered culture of political parties that ensures both left and right parties are problematic for feminist politics.
Collections