Publication:
Benchmarking mediante herramientas TIC aplicado a las agencias de publicidad locales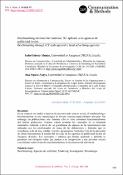 Advisors (or tutors)
Editors
Publisher
Raúl Eguizabal Maza (UCM)
Abstract
En un contexto de cambio e innovación tan acelerado como el actual, el benchmarking o benchmarketing es una metodología de mejora continua especialmente relevante. Sin embargo, las publicaciones más recientes sobre el tema provienen fundamentalmente del ámbito profesional. Nuestro trabajo presenta los resultados de la búsqueda sistemática realizada a través de las plataformas de algunas de las herramientas más utilizadas por los profesionales en busca de las definiciones y fórmulas que se consideran, a día de hoy, válidas. Además, presentamos resultados fruto de la aplicación de dichas herramientas al estudio del mercado de las agencias de publicidad locales de Zaragoza (España). Los conceptos y métricas que hemos analizado y definido se presentan con ejemplos reales que ayudan a su comprensión y nos permiten extraer conclusiones sobre el uso de estas herramientas en una muestra de referencia.
In a context of change and innovation as accelerated as the current one, benchmarking is a methodology of continuous improvement especially relevant. However, the most recent publications on the subject that have been detected in our bibliographic analysis of this concept come primarily from the professional field. Our work presents the results of the systematic search carried out through the platforms of some of the tools most used by professionals in search of definitions and formulas that are currently considered valid.. In addition, we present the results of the application of these tools to the market study of local advertising agencies in Zaragoza (Spain). We present the concepts and metrics that we have analyzed and defined with real examples that help their understanding and allow us to draw conclusions on the use of these tools in a reference sample.
Collections