Publication:
Modelo para el ánalisis narrativo de videojuegos: dos estudios de caso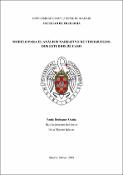 Authors
Advisors (or tutors)
Editors
Abstract
El principal objetivo de esta tesis ha sido el de aportar un esquema de análisis para el estudio de la narrativa de videojuegos. Este esquema tiene como bases tres campos principales: la literatura tradicional, la literatura digital y los videojuegos. Es por eso que en el esquema confluyen las tres disciplinas, habiendo realizado dos estudios de caso en los cuales se comprueba la eficacia del esquema. El trabajo aquí presente se creó como aportación al campo del estudio de la narrativa de los videojuegos. Debido a la escasez de esquemas para el análisis narrativo de los videojuegos, el esquema resulta un primer paso para el estudio narratológico de los videojuegos en claves literarias.
The main objective of this thesis is to provide an analysis scheme for the study of narrative in videogames. This scheme is based in three main fields: traditional literature, digital literature and videogames. That is why in the scheme the three subject areas join, having made two case studies in which the effectiveness of the scheme is verified. The work here was created as a contribution to the study of narrative in videogames. Due to the lack of scheme for the narrative analysis of videogames, the scheme comes as a first step in the narratological study of videogames in literary terms.