Publication:
Gamificación en anestesiología clínica veterinaria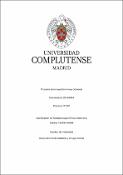 Advisors (or tutors)
Editors
Abstract
En el presente proyecto se propuso el desarrollo de un juego de mesa que permitiese el aprendizaje de conceptos teóricos relacionados con la anestesia en un entorno de gamificación. La gamificación se define como el empleo de mecánicas de juego en entornos y aplicaciones no lúdicas con el fin de potenciar la motivación, la concentración y el esfuerzo. Con ello se pretendía complementar la docencia teórica de la asignatura de Cirugía General y Anestesia de cuarto curso de Grado en Veterinaria. Este recurso y la metodología planteada han pretendido facilitar y mejorar el aprendizaje de diversos conceptos de anestesiología clínica en el ámbito de la docencia del Grado en Veterinaria. Con ello, se pretendía mejorar la adquisición de una serie de competencias necesarias para los graduados en Veterinaria, de cara a poder desempeñar adecuadamente su actividad práctica clínica.
The aim of the present project was the development of a board game that allows the learning of theoretical concepts related to anaesthesia in a gamification environment. Gamification is defined as the application of typical elements of game playing to other not playful areas aiming to potentatiate motivation, concentration and effort. Our purpose was to complement lectures of subject titled Cirugía General y Anestesia of fourth course of Veterinary Degree. This resource and the proposed methodology aimed to facilitate and improve learning process.
Citation
Deterding, S.; Khaled, R.; Nacke, L.; Dixon, D. 2011. Gamification: toward a definition. Chi: 12-15.