Publication:
I.amAble: El aprendizaje en ciencias al servicio de la inclusión educativa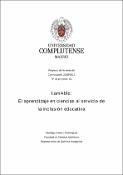 Advisors (or tutors)
Editors
Abstract
I.amAble es un proyecto que nació con una filosofía centrada en la utilización de acciones de solidaridad como método de aprendizaje. Se diseñan y organizan talleres científicos inclusivos para realizarlos en parejas formadas por personas con discapacidad cognitiva y de educación secundaria ordinaria. Se pretende aprender a la vez que se da un servicio a la universidad y a la sociedad, y ese es el espíritu que se ha seguido manteniendo durante esta tercera edición del curso 2018-2019.
I.amAble is a project that was born with a philosophy focused on the use of solidarity actions as a learning method. Inclusive scientific workshops are designed and organized to conduct them in pairs formed by people with cognitive disabilities and ordinary secondary education. It is intended to learn while providing a service to the university and society, and that is the spirit that has continued to be maintained during this third edition of the 2018-2019 course.
I.amAble est un projet né d'une philosophie axée sur l'utilisation des actions de solidarité comme méthode d'apprentissage. Des ateliers scientifiques inclusifs sont conçus et organisés pour les animer par paires formées de personnes ayant une déficience cognitive et un enseignement secondaire ordinaire. Son objectif est d'apprendre tout en offrant un service à l'université et à la société. C'est l'esprit qui a continué à être préservé lors de cette troisième édition du cours 2018-2019.