Publication:
Estudio analítico y de la actividad antioxidante de "Rosmarinus officinalis" L. de la Península Ibérica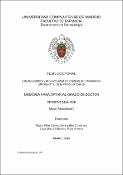 Files
Authors
Advisors (or tutors)
Editors
Publisher
Universidad Complutense de Madrid
Abstract
Las plantas medicinales son una gran fuente de compuestos dotados de actividad biológica y susceptibles de ser utilizados para el tratamiento de diferentes patologías. Entre ellas, la actividad antioxidante es una de las más estudiadas en la actualidad debido a la relación observada entre el estrés oxidativo, las especies reactivas de oxígeno y el desarrollo y progresión de algunas enfermedades. Así, una de las líneas prioritarias de investigación es la búsqueda de nuevos compuestos capaces de prevenir o al menos disminuir el impacto de los mediadores de oxidación a nivel fisiológico, a través de diferentes dianas bioquímicas. Las reacciones de óxido-reducción son procesos fisiológicos encaminados a la liberación de diferentes sustancias necesarias en el metabolismo celular normal. Estas reacciones implican la transferencia de electrones y pueden generar compuestos denominados radicales libres (RL) entre los cuales destacan los radicales libres de oxígeno (EROs), con una elevada reactividad química. El estrés oxidativo se define como el desequilibrio entre la producción de dichos RL y la capacidad de un sistema biológico de neutralizarlos rápidamente, con el fin de proteger el daño causado a proteínas, lípidos o incluso ADN. Los compuestos antioxidantes son aquellos que, a bajas concentraciones, son capaces de prevenir el daño oxidativo mediado por RL a través de diferentes mecanismos: captación directa de EROs, modulación de la actividad enzimático, quelación de iones metálicos (Fe+3, Cu+),, etc...
Medicinal plants are a great source of active substances endorsed with different mechanisms of action able to be applied for human diseases. Among them, the antioxidant activity is one of the main studied effects due to the relationship between oxidative stress and reactive oxygen species (ROS) and several pathologies development. Nowadays, one of the priorities in pharmacological research is the obtaining of new agents capable of prevent or at least decrease the impact of these oxidation mediators at physiological level by acting on different biochemical or pharmacological targets. Oxidative reactions are physiological processes aimed to release different substances which are needed in cellular metabolism. These reactions involve the transfer of electrons and may generate compounds known as ROS, among which there are the free radicals (FR) and oxygen derived molecules with high reactivity. Oxidative stress is defined as the imbalance between the production of free radicals and the ability of a biological system to quickly detoxify the reactive intermediates and repair the damage caused at protein, lipid and DNA levels. Antioxidant compounds are defined as those which at low concentration are capable of preventing oxidative damage mediated by free radicals trough different pathways such as a direct uptake of ROS, modulation of enzyme activity or chelating metal ions (Fe+3, Cu+), among others...
Description
Tesis inédita de la Universidad Complutense de Madrid, Facultad de Farmacia, Departamento de Farmacología, leída el 11-07-2017
Collections