Publication:
Determinación simultánea de los enantiómeros de mezclas de ketoprofeno, naproxeno e ibuprofeno en fármacos y muestras de agua mediante HPLC bidimensional aquiral-quiral en modo heart-cut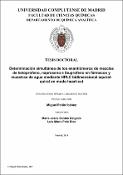 Files
Authors
Advisors (or tutors)
Editors
Publisher
Universidad Complutense de Madrid
Abstract
Los antiinflamatorios no esteroideos constituyen uno de los grupos de analgésicos más utilizados y, entre ellos, destaca la familia de los profenos. Estos compuestos, además de poseer propiedades analgésicas, presentan propiedades antiinflamatorias y antipiréticas. Los profenos (PROs) poseen un centro quiral, por lo que presentan dos enantiómeros, de los cuales únicamente el enantiómero S es farmacológicamente activo, difiriendo el comportamiento del enantiómero R entre los distintos compuestos de la familia, que puede ser activo, aunque con una actividad menor, inactivo o tóxico, como ocurre en el caso del naproxeno, comercializado en forma monoenantiomérica. Debido a su paso potencial al medio ambiente se consideran contaminantes emergentes. Por todo ello, existe un creciente interés por conocer el comportamiento de dichos compuestos lo que justifica el desarrollo de métodos de análisis para su determinación y su evaluación de los contenidos enantioméricos en una gran variedad de matrices. Debido a la polaridad de estos compuestos la técnica analítica más utilizada para su determinación tanto en su forma racémica como enantiomérica es la cromatografía líquida de alta eficacia. De acuerdo con la bibliografía no se dispone de métodos de análisis para la determinación simultánea de los racematos y sus enantiómeros; en consecuencia, en esta tesis se realizan aportaciones sobre este tema. Concretamente se desarrollan, optimizan y validan nuevas metodologías cromatográficas, mediante acoplamientos HPLC bidimensional aquiral-quiral en modo heart-cut para la determinación simultánea de mezclas de los profenos, ketoprofeno (KPF), naproxeno (NAP) e ibuprofeno (IBU), en matrices farmacéuticas y de agua...
Non-steroidal anti-inflammatory drugs are one of the most used analgesic groups and, among them, the profen family stands out. These compounds have analgesic, antiinflammatory, and anti-pyretic properties. Profens (PROs) contain a chiral center, so they exist as two enantiomers, of which only the S enantiomer is pharmacologically active; the behavior of the R enantiomer depends on each compound; it could be active but with a lower activity, inactive or toxic, as in the case of naproxen, which is marketed in monoenantiomeric form. Due to their potential introduction in the environment these drugs are considered as emergent contaminants. Consequently, interest in the behavior of these compounds is increasing, which justifies the development of analytical methods to evaluate their enantiomeric content in a great variety of matrices. The polarity of these compounds is the reason why liquid chromatography has been the most employed technique for the determination of both racemates and their enantiomers, and according to literature, analytical methods for the simultaneous determination of these compounds as a whole are not available. Consequently, this thesis tries to widen our knowledge of this subject. In particular, chromatographic methods by two-dimensional achiral-chiral coupling in heart-cut mode are developed, optimized and validated for the simultaneous determination of the following profen mixtures in pharmaceutical and water samples; ketoprofen (KPF), naproxen (NAP) and ibuprofen (IBU)...
Description
Tesis de la Universidad Complutense de Madrid, Facultad de Ciencias Químicas, Departamento de Química Analítica, leída el 22/09/2017
Collections