Publication:
La vejez en la pintura de la Edad Moderna: una mirada de género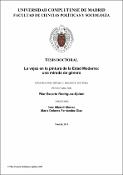 Files
Authors
Advisors (or tutors)
Editors
Publisher
Universidad Complutense de Madrid
Abstract
El envejecimiento es un proceso de gran complejidad por las circunstancias que acompañan a los seres humanos. Las formas de envejecer son distintas en cada caso como consecuencia de un proceso sociocultural que representa una realidad determinada en cada etapa de la vida. Es una fase de este proceso y a la vez, una idea asociada al cambio y a un sistema inestable e irreversible que acaba con la muerte. Actualmente existe un interés creciente hacia las múltiples formas que adopta la vejez en nuestra sociedad y aún contando con los diferentes enfoques teóricos, en general coinciden en afirmar que el envejecimiento engloba dos grandes áreas, una biológica o y otra de carácter psicosocial. Esta última no acaba de explicar la razón por la que envejecer es motivo de inquietud e incluso de ansiedad. Los estudios del envejecimiento no acaban de despojar al envejecimiento de los estereotipos que la acompañan y que marcan la vejez no como un triunfo ante la muerte sino como un fracaso de la vida. Una paradoja de esta sociedad consiste en saber como enfrentarse con una imagen estereotipada de la vejez en la que pesan más los valores negativos y los prejuicios, que los beneficios de su alargamiento. Este concepto de la vejez se ha insertado en una sociedad no preparada para aceptarla y por tanto la desvaloriza con efectos no deseado para las personas cuando llegan a ella. Una de las peores consecuencias es la imagen femenina que se proyecta en muchos ámbitos sociales y culturales, entre ellos el artístico, un hecho que ocurre desde la antigüedad como hemos podido comprobar en el presente trabajo...
Aging is a process of great complexity because of the circumstances that accompany human beings. The forms of aging are different in each case as a consequence of a socio-cultural process that represents a determined reality in each stage of life. It is a phase of this process and at the same time an idea associated with change and an unstable and irreversible system that ends with death. At present, there is a growing interest in the multiple forms adopted by old age in our society. Even with the different theoretical approaches, it is generally agreed that aging encompasses two major areas, one biological and the other psychosocial. The latter does not just explain the reason why growing old is a source of concern and even anxiety. Studies of aging do not just deprive aging of the stereotypes that accompany. They mark aging not as a success before death but as a failure of life. A paradox of this society consists on knowing how to deal with a stereotyped image of old age, in which negative values and prejudices outweigh the benefits of its lengthening. This concept of old age has been inserted in a society not ready for accepting aging and therefore devalues old age with undesirable effects for people as they get older. One of the worst consequences is the female image that is projected in many social and cultural spheres, including the artistic one, a fact that has occurred since ancient times as we have seen in the present work...
Description
Tesis de la Universidad Complutense de Madrid, Facultad de Ciencias Políticas y Sociología, leída el 08/07/2017
Collections