Publication:
De la holografía a la imagen virtual. Tecnologías de representación tridimensional y manifestaciones artísticas en el siglo XXI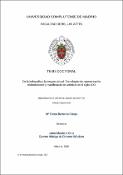 Files
Authors
Advisors (or tutors)
Editors
Publisher
Universidad Complutense de Madrid
Abstract
La presente Tesis ofrece una revisión histórico-tecnológica de las técnicas de representación tridimensional y presta especial atención a la holografía y a sus posibilidades creativas y artísticas, desde los años 70 hasta nuestros días.La Tesis destaca el valor cultural de las imágenes tridimensionales y profundiza, tanto en su potencial, como en su continuo proceso evolutivo, proceso que traspasa los aspectos meramente técnicos y formales y se expande hacia otros campos de estudio y de reflexión.El primer capítulo presenta una visión de la sociedad contemporánea y estudia los efectos de la globalización, la interacción de la economía compartida y la constante innovación tecnológica, en concreto, el desarrollo de las tecnologías de la información y la comunicación.La representación tridimensional se introdujo en la sociedad a partir de la búsqueda de sistemas de reproducción y multiplicación de imágenes y desde su relación con el ocio y la cinematografía. Hoy en día se pretende incorporar a las telecomunicaciones.El segundo capítulo presenta el estudio histórico del efecto y el impacto de la profundidad en el arte y comprende desde la perspectiva hasta los sistemas de visionado electrónico, como las gafas activas o los cascos de Realidad Virtual...
This thesis offers a technological and historical review of tridimensional representation techniques, paying special attention to holography and its creative and artistic potentials from the 70's to the present day.The thesis highlights the 3D image's cultural value and studies in depth both its potential and its constant development, which goes beyond mere technical and formal aspects and spreads towards other fields of study.The first chapter presents an overview of our contemporary society and studies the effects of globalization, shared economy and the constant technological innovations, specially the development of communication technologies.Tridimensional representation was introduced in our society thanks to the search of reproduction and image multiplication systems and its relationship with leisure and cinematography. Today it is to be included it in telecommunication systems.The second chapter presents the diachronic study of the impact that depth has on art, from the use of perspective to that of electronic visual systems, such as active glasses and Virtual Reality helmets.Given the overwhelming number and diversity of representation systems, it is crucial to show the basic concepts of visual perception in order to understand the human eye's capacity to interpret our surroundings. This historical panorama also includes science-fiction literature and related genres, since they introduce, in a metaphoric way, new means to recreate immersive worlds...
Description
Tesis inédita de la Universidad Complutense de Madrid, Facultad de Bellas Artes, leída el 22 de junio de 2017
Collections