Publication:
Sistemas astronómicos de gran campo y su aplicación al estudio de meteoroides en la atmósfera terrestre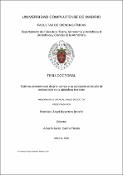 Files
Advisors (or tutors)
Editors
Publisher
Universidad Complutense de Madrid
Abstract
Presentamos un nuevo proyecto de investigación para estudiar meteoroides con cámaras de gran campo, durante su entrada en la atmósfera terrestre. Para ello se han recurrido a las técnicas de video y fotografía con redes de difracción, que posibilitan estudiar la naturaleza físico-química de los meteoroides y en algunos casos, el cuerpo progenitor del cual provienen. En este trabajo de investigación se han usado las instalaciones del Observatorio Andaluz de Astronomía, que han sido adaptadas especialmente para este fin. En este mismo emplazamiento, se diseñaron y desarrollaron los espectrógrafos, que junto a la estación meteorológica y al pequeño observatorio automático, han permitido desarrollar una parte muy importante de esta investigación. Por otro lado, las cámaras de video CCD, han contribuido también de manera notable, en alcanzar los objetivos iniciales. Estas cámaras han trabajado junto a otras cámaras en distintos emplazamientos de Andalucía. Tanto las técnicas de video como las de fotografía, aportan resultados diferentes, que sin embargo son complementarios en el estudio de los espectros de emisión que nos proporcionan estos objetos. El análisis de estos datos, permite tener una visión más amplia de cómo pueden contribuir diferentes técnicas en mejorar nuestro conocimiento de la materia interplanetaria a través de la astrometría y espectrografía. Los resultados obtenidos durante estos años, invitan a mejorar los dispositivos, al tiempo que avalan de forma importante su uso compartido...
We present a new research project to study meteoroids during their entry in the terrestrial atmosphere using wide-field cameras. To this end we have resorted to video and photo techniques with diffraction gratings, which allow us to study the physico-chemical nature of the meteoroid and, in some cases, the origin of its parent object. The facilities of the Andalusian Astronomy Observatory, which have been specially adapted for this purpose, have been used in this research project. In this same location, the spectrographs were designed and developed. Along with the weather station and the small automatic observatory, the spectrographs have allowed us to execute a very significant part of this investigation. Additionally, the CCD video cameras have contributed significantly in achieving the initial goals. These cameras have worked in collaboration with other cameras in different locations in Andalusia. Both the video and photo techniques provide different results, which are nonetheless complementary in the study of the emission spectra that these objects provide. The analysis of these data gives us a wider perspective on how different techniques can improve our knowledge of interplanetary matter through astrometry and spectroscopy. The results obtained throughout these years warrant the improvement of the devices, whilst strongly endorsing their shared use...
Description
Tesis de la Universidad Complutense de Madrid, Facultad de Ciencias Físicas, Departamento de Física de la Tierra, Astronomía y Astrofísica II (Astrofísica y Ciencias de la Atmósfera), leída el 22/06/2018
Collections