Publication:
Modelling glacial abrupt climate changes and their impact on the Northern Hemisphere glacial ice sheets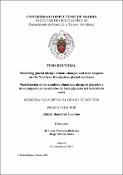 Files
Authors
Advisors (or tutors)
Editors
Publisher
Universidad Complutense de Madrid
Abstract
During the last glacial period (LGP), the North Atlantic region experienced aseries of abrupt climate changes known as Dansgaard-Oeschger (D/O) eventswhich comprised rapid temperature excursions from cold to relatively mild climaticconditions and widespread impacts recurring on millennial time scales. Theprevailing paradigm to explain these glacial abrupt climate changes involves reorganisationsof the Atlantic meridional overturning circulation (AMOC). Coldclimatic conditions in the North Atlantic are thought to be associated to a weakAMOC regime in which the heat transport towards the North Atlantic is stronglydiminished, while relatively warm climatic conditions are thought to result froma reinvigoration of this northward heat transport. Freshwater uxes have beencommonly invoked to be responsible for perturbing the AMOC stability, thuspromoting these abrupt climate changes. However, there is still a high degreeof uncertainty regarding the origin and magnitude of these freshwater uxes, afactor that challenges the implication of this forcing in glacial abrupt climatechanges...
Durante el ultimo periodo glacial, la región del Atlántico Norte experimento una serie de cambios climáticos abruptos conocidos como eventos Dansgaard-Oeschger(D/O), rápidos incrementos de temperatura con impactos climáticos generalizados que se repitieron en escalas de tiempo milenarias. El paradigma actual contempla que estos cambios climáticos abruptos se produjeron por la reorganización de la circulación meridiana del océano Atlántico (AMOC, del ingles Atlantic meridional overturning circulation). Se cree que las condiciones climáticas frías en el Atlantico Norte estuvieron asociadas a un modo de circulación oceánica débil incapaz de transportar grandes cantidades de calor hacia el norte, mientras que las condiciones climáticas relativamente cálidas pudieron estar asociadas a la revitalización de este transporte meridiano de calor. Con frecuencia se ha considerado que los flujos de agua dulce procedentes del deshielo de los mantos polares pudieron haber sido los responsables de perturbar la estabilidad de la AMOC, provocando as las transiciones climáticas abruptas características del ultimo período glacial. Sin embargo, todavía existe un alto grado de incertidumbre sobre el origen y la magnitud de dichos flujos, con lo que la implicación de este forzamiento en los cambios climáticos abruptos del ultimo período glacial no esta totalmente clara..
Description
Tesis de la Universidad Complutense de Madrid, Facultad de Ciencias Físicas, Departamento de Física de la Tierra y Astrofísica, leída el 08-02-2019
Collections