Publication:
Evaluación de las políticas de liberalización del comercio en América Latina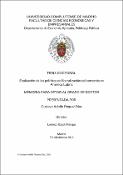 Files
Authors
Advisors (or tutors)
Editors
Publisher
Universidad Complutense de Madrid
Abstract
Esta tesis consta de tres ensayos independientes (capítulos 2, 3 y 5) y una extensión (capítulo 4) del capítulo 3 que tienen el nexo común de analizar los efectos del comercio internacional, considerando a los países de América Latina como unidades centrales de análisis. Las aportaciones que se presentan en la tesis tratan de encontrar, de diferente manera, algún efecto causal en el comercio internacional: bien entre el crecimiento económico y la apertura al comercio internacional, utilizando para ello el concepto de causalidad en sentido de Granger, o bien entre los tratados de libre comercio sobre el volumen y composición del comercio entre sus firmantes, utilizando en este caso metodologías de inferencia causal para la evaluación de impacto de políticas públicas.El capítulo 2 analiza empíricamente la relación de causalidad entre el crecimiento económico y la apertura comercial utilizando nuevos avances en la metodología econométrica para datos de panel heterogéneos, aplicado a un conjunto de 18 países de América Latina para 1990-2013, periodo en que se han desarrollado múltiples iniciativas orientadas a liberalizar el comercio en la región. Se propone y utiliza una metodología por etapas, en la que los resultados de cada una de ellas, condiciona cómo debe realizarse la siguiente...
This thesis consists of three independent essays (chapters 2, 3 and 5) and one extension (chapter 4) that present the common nexus of analysing the effects of international trade, considering the Latin American countries as the main units of analysis.In chapter 2, we empirically analyse the causality relationship between economic growth and international trade using new advancements in the econometric methodology for heterogeneous panel data applied to Latin American countries. For this purpose, a sequential procedure is proposed and used that begins, following De Hoyos & Sarafidis (2006) with a test proof of the probable presence of cross-sectional dependence in panels, to then apply the unit root tests and estimate the integration order of the variables. Then we use Westerlund (2007) robust tests for co-integration between growth and openness. Finally, we use a test for Granger non-causality for heterogeneous panel data models, procedure developed by Dumitrescu & Hurlin (2012)...
Description
Tesis inédita de la Universidad Complutense de Madrid, Facultad de Ciencias Económicas y Empresariales, Departamento de Economía Aplicada, Pública y Política, leída el, 26-11-2018
Collections