Publication:
Liderazgo y género: factores que dificultan el acceso de las mujeres a los puestos de dirección en educación secundaria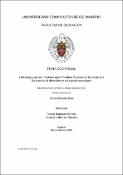 Files
Authors
Advisors (or tutors)
Editors
Publisher
Universidad Complutense de Madrid
Abstract
Esta investigación presenta un análisis acerca de la situación de las mujeres en la dirección de los centros de Educación Secundaria, campo ocupado tradicionalmente por los hombres, a pesar de ser un hecho evidente que la función docente es desarrollada por un porcentaje más elevado de mujeres. Este trabajo tiene como uno de sus objetivos principales conocer minuciosamente los distintos obstáculos que impiden a las docentes aspirar, acceder y permanecer en los puestos de dirección de los centros públicos de Educación Secundaria de la Comunidad de Madrid. Además, el estudio pretende analizar la influencia del género en las variables que condicionan el ejercicio en estos cargos y examinar el estilo de dirección desempeñado por mujeres y hombres, con el fin de conocer si existen diferentes estilos de liderazgo en función del género. Para abordar estos objetivos se opta por seguir un método descriptivo con un enfoque mixto, integrando un análisis cuantitativo y otro cualitativo, utilizando como técnicas de recogida de información el cuestionario y la entrevista semiestructurada, respectivamente. El cuestionario, elaborado ad hoc, se pasó a una muestra de 102 personas (50 mujeres y 52 hombres) que ocupaban el cargo de dirección. El estudio se completó con entrevistas a una muestra del total de directoras y directores que respondieron al cuestionario (9 hombres y 9 mujeres)...
This research presents an analysis of the situation of women in the management of schools, a field traditionally occupied by men, despite being an obvious fact that teaching is carried out by women in a higher percentage than by men. This research has as one of its main objectives to know meticulously the different obstacles that prevent female teachers from aspiring, accessing and remaining in management positions in Secondary State Schools in the Community of Madrid. In addition, the study aims to analyze the influence of gender on the variables that determine the exercise in these positions and to examine the management style played by women and men, in order to know if there are different styles of leadership depending on gender. To achieve these objectives, we chose to follow a descriptive method with a mixed approach, integrating a quantitative and a qualitative analyses, using as information collection techniques the questionnaire and the semi-structured interview respectively. The questionnaire, prepared ad hoc, was passed to a sample of 102 people (50 women and 52 men) who occupied the management position. The study was completed interviewing 18 people of the total number directors who answered the questionnaire (9 men and 9 women)...
Description
Tesis de la Universidad Complutense de Madrid, Facultad de Educación, leída el 17/12/2018
Collections