Publication:
Asociación de hallazgos electrocardiográficos en deportistas y parámetros de riesgo cardiovascular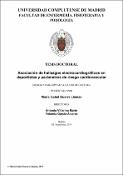 Files
Advisors (or tutors)
Editors
Publisher
Universidad Complutense de Madrid
Abstract
La última Encuesta de Hábitos Deportivos en España, pone de manifiesto que más de la mitad de la población practica deporte de manera habitual en nuestro país. El binomio salud-deporte se comienza a cuestionar por la repercusión mediática de la muerte súbita del deportista (MSD), un hecho con muy baja incidencia, pero con una repercusión social que puede poner en riesgo un estilo de vida que mejora nuestra salud. Los registros a nivel mundial y nacional de muerte súbita evidencian que la etiología más frecuente de este evento es cardiovascular. Las características del corazón del deportista han suscitado interés desde siglos anteriores hasta hoy. Estas investigaciones nos han llevado a poder afirmar que el deporte induce una serie de adaptaciones fisiológicas, morfológicas y funcionales sobre el sistema cardiovascular que en muchos deportistas se manifiestan con hallazgos electrocardiográficos anormales asociados a la práctica deportiva. Este hecho ha creado controversia en los últimos años a la hora de definir electrocardiogramas anómalos como patológicos, o como un rasgo más de adaptación cardíaca al deporte. Con el fin de evitar falsos positivos en la interpretación del electrocardiograma y crear un consenso común, se ha publicado recientemente un nuevo documento de consenso internacional para la interpretación del electrocardiograma del deportista. Ante la necesidad de estrategias preventivas de MSD que criben de manera adecuada deportistas con patrones cardiovasculares adaptativos a su práctica o hallazgos patológicos cardiovasculares, surgen las evaluaciones médicas previas a la práctica deportiva que permitan la detección de enfermedades que pongan en riesgo la vida del deportista...
Recent polls of sports habits in Spain have shown that over half of the population participate in sport on a regular basis. Binomial health in sport has received much attention through recent media coverage of athlete Sudden Cardiac Death (SCD). SCD has a low incidence, however it has a high social impact, potentially adversely affection lifestyle measures which may have general health improvement outcomes. International and national records have shown that the most frequent etiology of SCD are cardiovascular mechanisms. Characteristics of athletes' hearts have been studied throughout history. These studies help us to understand that sport includes an interaction of physiological, morphological, and functional adaptations of the cardiovascular system, which can manifest in athletes through abnormal ECG findings. This theory has been controversial in recent years, with differing opinions on definitions for abnormal ECG findings. Abnormal pathological or cardiac adaptation to the demands of sport on the athletes' heart. Due to this difficulty in definition, a new protocol for international interpretation of athletes ECG's has been devised to help potentially reduce false-positivities in results and provide a standardized agreement on ECG reports. Strategies for preventing SCD in athletes include identifying athletes with adaptive cardiovascular patterns, and those with pathological cardiovascular patterns which might put them at risk of SCD...
Description
Tesis de la Universidad Complutense de Madrid, Facultad de Enfermería, Fisioterapia y Podología, leída el 30/04/2019
Collections