Publication:
Los otros ganados de fauno y los ataques a la Mesta: Intentos de implantación y fracaso de la avicultura ilustrada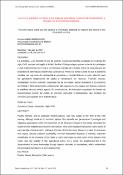 Authors
Advisors (or tutors)
Editors
Publisher
Biblioteca Histórica de la U.C.M.
Abstract
La avicultura, y en concreto la cría de gallinas, estaba plenamente arraigada en el campo del siglo XVIII y era una práctica ancestral, aunque restringida al ámbito familiar. El desprestigio y persecución de los privilegios y usos trashumantes en el marco del Honrado Concejo de la Mesta motivó la búsqueda por los ilustrados de alternativas económicas sustitutorias. Pronto se dieron cuenta de que la gallinería contaba con una serie de características muy peculiares, convirtiéndola en la mejor elección para infinidad de ganaderos desprovistos de capital y necesitados de recursos. Tradición secular, rentabilidad, mínima inversión, elasticidad de los mercados, aporte importante a la economía del Estado o fácil alimentación conformaban sólo algunos de los rasgos que hicieron evidente la viabilidad de esa política agraria. En consecuencia, los ilustrados propiciaron la difusión de conocimientos aviares por medio de informes, manuales o traducciones, que minaban los cimientos privilegiados de la Cabaña Real.
Poultry farming, and in particular chicken-raising, was fully rooted in the field of the 18th century and was an ancestral practice, although restricted to domestic sphere. The discredit and persecution of privileges and migrating applications within the framework of the Honrado Concejo of the Mesta motivated the search by the enlightened economic alternatives. They soon realized that poultry had a series of very peculiar characteristics, making it the best choice for many farmers in need of resources and capital. Secular tradition, profitability, minimal investment elasticity of markets, important contribution to the economy of the State or easy food made up only some of the features that made clear the viability of this agricultural policy. As a result, the enlightened led to the dissemination of avian knowledge through reports, manuals, or translations, which undermined the privileged foundations of the Cabaña Real.
Collections