Publication:
¿Qué dice la investigación social sobre las pruebas educativas externas?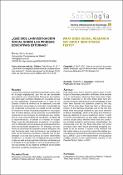 Authors
Advisors (or tutors)
Editors
Publisher
Instituto de Estudios Sociales y Avanzados ( CSIC)
Abstract
Las pruebas externas estandarizadas (high-stakes tests, en la jerga anglosajona), que han de ser aprobadas para obtener una credencial de Educación Secundaria, han dado lugar a amplios debates en los países en que se han implantado. Especialmente en el caso de los Estados Unidos de América se ha detectado que este tipo de test ha provocado una reducción considerable de los contenidos curriculares, los cuales se han centrado en exceso en lo que se pueda preguntar en los propios test. Al mismo tiempo, se ha producido una modificación sustancial en los procesos de aprendizaje que, centrados en unos conocimientos de tipo fáctico, se alejan de la experimentación, el debate o el trabajo en equipo. Pese a que hay discrepancias, en general, la investigación ha detectado que es dudoso que estas pruebas mejoren los resultados académicos. Sin embargo, se incrementa el porcentaje de abandono escolar temprano. Ha sido frecuente cierto nivel de fraude en las pruebas por parte de los directivos escolares, evitando que se presentasen a los test los alumnos de menor rendimiento académico. La revisión de investigaciones que se lleva a cabo en este artículo permite contextuar el debate que en España se ha generado en torno a las pruebas externas que plantea la Ley Orgánica de Mejora de la Calidad Educativa (LOMCE) aprobada en 2013.
High-stake tests, which students need to pass in order to gain a Secondary education certificate, have aroused a lot of controversy whenever they have been implemented. Especially in the USA these tests have produced a dramatic shrinking of school knowledge as they have been focused into questions posed by the very tests. At the same time, there has been a critical modification of the learning processes due to the fact that these tests encourage students to pay more attention to factual knowledge, which is far away from hands-on learning, debating in class or working in teams. In spite of certain discrepancies, by and large, research casts serious doubts about whether these tests are conductive to better academic performance. Nevertheless, the dropout rate is on the rise. More often than not, school principals have been found preventing struggling students to sit the exams. A review of the research into this matter allows us to put into context the debate surrounding external exams posed by the current education law (LOMCE: Law for the Improvement of Educational Quality) passed by the parliamentary majority of the Popular Party in Spain in 2013.
Collections