Publication:
Percepción de estudiantes universitarios de las herramientas de Moodle para la adquisición de competencias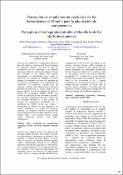 Advisors (or tutors)
Editors
Abstract
La evaluación de competencias supone la base del modelo de enseñanza del Espacio Europeo de Educación Superior. Por ello, el logro de competencias por los estudiantes es un indicador clave para evaluar los estudios universitarios. El auge del e-learning en los últimos años requiere urgentemente de metodologías para evaluar la adquisición de competencias adaptadas al modelo europeo. La importancia creciente de la participación incrementa la complejidad de las metodologías de evaluación y en ocasiones se pierde rigor, sin embargo el análisis multi-criterio permite integrar la participación individual de manera rigurosa en un proceso global. En esta investigación se utiliza el método de las jerarquías analíticas (AHP) para evaluar la adquisición de una competencia general y una específica: Aprendizaje Autónomo y Adquisición de Contenidos definidos en la guía docente. Se recogen las percepciones individuales de 71 estudiantes de GADE on-line que evalúan 7 herramientas de Moodle en una asignatura de carácter cuantitativo, y se obtiene una valoración conjunta. Los resultados muestran en general una mayor importancia de las unidades didácticas y de las tutorías, frente a otros recursos docentes, aunque existen diferencias relativas entre ambas competencias.
The evaluation of skills is the basis for the European Higher Education Area model. Therefore, the achievement of competencies by students is a key indicator to evaluate university degrees. In recent years, the rapid rise of e-learning platforms urgently requires methodologies adapted to the European model for assessing the acquisition of competencies. The growing importance of participation increases the complexity of the assessing methodologies and, sometimes, rigor is lost. However, the multi-criteria analysis allows to integrate individual participation in a rigorous and overall process. We propose to use Analytic Hierarchy Process (AHP) techniques to evaluate the acquisition of one general and one specific competence, say Independent Learning and Content Acquisition defined in the teaching guide. For this purpose, we have surveyed the individual perceptions of 71 students in an on-line Business Administration Degree, and evaluated 7 Moodle tools based on the achievement of the 2 selected competencies in a quantitative course in order to compute the joint perception. The results show in general a greater importance of teaching units and tutorials over other teaching tools, although there are differences among both considered competences.