Publication:
Dictamen jurídico sobre cooperación jurídica internacional en materia civil-Derecho de familia, litigación transfronteriza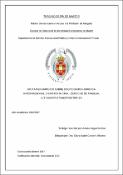 Authors
Advisors (or tutors)
Editors
Abstract
El presente trabajo, consistente en la elaboración de un dictamen jurídico, tiene como objeto la realización de una propuesta de resolución a una serie de cuestiones jurídicas planteadas propias del Derecho internacional privado, y más concretamente, de Derecho de familia en el ámbito de la cooperación jurídica internacional. De esta manera, en el presente trabajo se analizan cuestiones propias de esta disciplina del Derecho cómo lo son: la competencia jurídica internacional; la existencia y tratamiento de figuras de ámbito procesal como la litispendencia, la posible prórroga de competencia en este contexto o el procedimiento para notificación y traslado de documentos judiciales. Todo ello de conformidad con los instrumentos normativos existentes en la referida materia.
The following study consist in the elaboration of a legal opinion whose aim is to proposed a resolution to the legal questions referred on the subject of International Private Law, and particularly, Family law. Therefore, this study examines some of the matters that belong to this field of the Law such as: international jurisdiction, the handling of procedural subjects as is the lis pendens, the prorrogation of jurisdiction, or the notification and transmission of judicial documents. All of this according with the legal instruments that currently rules in the reported subject.