Publication:
Cartografía de los espacios de la memoria de infancia: un análisis comparado del espacio en Perec, Modiano y Sebald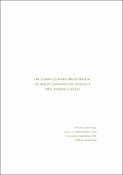 Authors
Advisors (or tutors)
Editors
Abstract
El presente TFM constituye una indagación acerca de la representación del espacio en la elaboración literaria de la memoria de infancia. A partir del análisis comparado de un corpus formado por tres obras de carácter autoficcional, basadas en una infancia que transcurre en el contexto histórico de la Europa de los años 40 (W o el recuerdo de la infancia de Georges Perec, Dora Bruder de Patrick Modiano y Austerlitz de W G Sebald), se traza una cartografía espacial en la que las relaciones entre espacios institucionales y espacios de emergencia del yo, configuran las principales estrategias narratológicas y simbólicas, y permiten identificar lugares de convergencia y valores singulares del espacio en cada una de las tres obras.
This MFW poses a research about space representation in literary building of childhood memory. From a corpus of three autofictional works based in childhood experience into the 40's Europe historical context (W o el recuerdo de la infancia by Georges Perec, Dora Bruder by Patrick Modiano and Austerlitz by W G Sebald) a spatial cartography is framed, where the relationship between institutional and subjective spaces makes the main narrative and symbolic strategies and allows to identify some common places among the three works and explore some singular values of space in each one of them.
Description
Este trabajo fue evaluado con la calificación de Sobresaliente (9,5)