Publication:
Programa de intervención en el contexto educativo "Nuevas masculinidades: otra forma de ser hombre"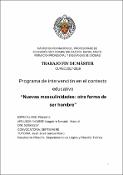 Authors
Advisors (or tutors)
Editors
Abstract
La pregunta sobre qué significa ser varón abre un interrogante importante en nuestra actualidad. La construcción de sociedades igualitarias requiere de la reflexión en los discursos y prácticas que provienen del orden masculino. A propósito de ello, desde los años setenta, los estudios centrados en el significado de ser hombre, han conseguido poner de relieve la posibilidad de transformar la masculinidad entendida ésta como identidad de género. Sin embargo, en los contextos educativos, el análisis de la masculinidad en la adolescencia brilla por su ausencia. Así pues, la falta de atención a lo masculino supone abordar fenómenos como el fracaso escolar o la violencia en el aula sin las herramientas adecuadas para contrarrestar sus efectos. Esta falta de interés en la construcción de la masculinidad no sólo tiene inconvenientes negativos para el resto de la comunidad educativa, sino que también, desperdicia la posibilidad de aunar esfuerzos para que los varones adolescentes contribuyan a crear sociedades más justas. Resumiendo, para nosotros, futuros docentes, es necesario impartir programas de intervención en el entorno educativo para considerar a los hombres como sujeto protagonista en la consecución de la igualdad.
What it means to be male constitutes an important question mark in our present. The construction of equal societies demands a reflection about the narratives and practices that derive from the masculine order. In light of this, since the 1970s, studies focused on what it means to be male have successfully managed to highlight the possibility to transform masculinity understood as a gender identity. However, within educational contexts, the analysis of masculinity during adolescence is conspicuous by its absence. Such lack of attention towards the masculine often take us to approach phenomena such as school failure or violence in the classroom without the right tools to counteract its effects. Moreover, this lack of interest in the social construction of masculinity not only has its drawbacks for the rest of the education community but it also hampers the possibility to join efforts so that male adolescents contribute to creating more equitable societies. In sum, for us future teachers, it becomes necessary to conduct intervention programmes in the educational environment in order to consider males as leading subjects in achieving equality.