Publication:
Desarrollo de una herramienta de creación de videojuegos de rol táctico para escenarios isométricos compuestos por bloques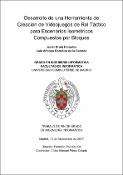 Advisors (or tutors)
Editors
Abstract
Gracias al avance de la tecnología y a una mayor disponibilidad de las herramientas, en estos últimos años hemos visto aparecer un gran número de proyectos de videojuegos desarrollados por estudios independientes. Algunos géneros tradicionales, como los juegos de plataformas o los de disparos en primera persona, cuentan con entornos de desarrollo específicos y muy potentes, que permiten prototipar ideas en cuestión de horas. Sin embargo, otros géneros de mayor variabilidad, como el de los juegos de rol, no cuentan con herramientas tan maduras y estables dentro de los motores de videojuegos de última generación. Con el objetivo de ayudar a estos creadores independientes que desean desarrollar videojuegos de este género, se ha extendido una herramienta preexistente llamada IsoUnity, pensada para crear escenarios isométricos compuestos por bloques. Este proyecto amplía su funcionalidad, tanto a nivel de código como de herramientas de edición, para que se puedan crear con facilidad juegos de rol táctico con movimiento, combate por turnos y vista en perspectiva isométrica, al estilo de clásicos como Final Fantasy Tactics. Con el objetivo de ofrecer a los usuarios una herramienta actual y versátil, se han estudiado y analizado un conjunto representativo de juegos del sector y en base a ese estudio se ha desarrollado el proyecto tratando de incorporar la mayoría de elementos comunes a todos, siguiendo una metodología clásica de análisis, diseño, implementación y prueba que ha dado lugar a un prototipo plenamente funcional que ilustra las posibilidades de esta herramienta. Actualmente el prototipo está en su primera versión (v 1.0), pero se estudia y ofrece la continua mejora de éste. Este prototipo en su primera versión oficial ofrece las características más destacadas del conjunto de juegos estudiados haciendo hincapié en el sistema de turnos, la creación de personajes y habilidades y el movimiento de personajes basado en celdas desarrollado en IsoUnity.
Thanks to the advances in technology and greater availability of tools, in recent years we have seen a large number of independent video game projects. Some traditional genres, such as platform games or first-person shooters, have specific and very powerful development environments that allow prototyping ideas in a matter of hours. However, other genres of greater variability, such as that of RPGs, do not have such mature and stable tools. With the aim of helping these independent creators who want to create videogames of this genre, a preexisting tool called IsoUnity has been extended. This tool is designed to create isometric scenarios composed by blocks. The functionality of this tool has been expanded, both at the code level and editing tools, so that a designer can easily create tactical role-playing games with movement and combat by squares and isometric perspective view, in the style of classics like Final Fantasy Tactics. With the aim of offering users a current and versatile tool, a representative set of games has been studied and analyzed, and based on that study the project has been developed, following a classic methodology of analysis, design, implementation and testing which has given rise to a fully functional prototype that illustrates the possibilities of this tool. At this time, the protoype is in its first version (v 1.0) but it is also work in progress. The first version offers the most important features of the studied games: turn based gameplay, creating and editing characters and their abilities, and movement through cells in the map based on IsoUnity.
Description
Trabajo de Fin de Grado en Ingeniería Informática (Universidad Complutense, Facultad de Informática, curso 2016/2017)