Publication:
El uso de las redes en la gestión socio-cultural de proyectos artísticos. Tres casos prácticos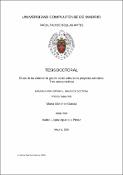 Files
Authors
Advisors (or tutors)
Editors
Publisher
Universidad Complutense de Madrid
Abstract
A lo largo de este estudio exponemos el conjunto de indagaciones y resultados que hemos obtenido al analizar el contexto actual en un trabajo de campo estructurado en tres casos prácticos. Para ello nos situamos en un momento histórico sin precedentes donde las generaciones más jóvenes son testigos de un nuevo proceso de aprendizaje invertido. Estas son ahora los encargadas de enseñar a sus padres a manejar las nuevas tecnologías que están apoderándose de nuestra cotidianeidad. Mediante un análisis del estado de la cuestión, exponemos las fases más significativas del desarrollo tecnológico en la era de internet. Asistimos a una reconceptualización del lenguaje debido a la invasión de las TIC. Es el momento de repensar la cultura y revisar los roles de la educación en búsqueda de contenidos de calidad para las nuevas generaciones que viven un panorama cultural decadente. Proponemos utilizar el desarrollo tecnológico en beneficio de liberar la cultura mediante herramientas participativas, estructuras horizontales y mayor acceso a los contenidos. La interdisciplinearidad es la clave para conjugar exitosamente Arte, tecnología, cultura y comunicación. Por ello los artistas y profesionales del sector que emplean su capacidad creativa junto a su poder de innovación, son capaces de ofrecer una respuesta mejor hacia la comprensión del nuevo planteamiento. Por eso, cuanto más fomentemos un perfil versátil entre los gestores, mejor podremos dinamizar las estructuras periféricas, ámbitos marginales y contextos hostiles con la intención de recuperar la esencia de los conceptos más básicos. Dinamizar la cultura y el arte...
Throughout this study we present the set of inquiries that we have obtained to analyze the current situation through a field divided into three case studies. We are living a historic moment with no precedent where younger generations are witnessing a new reversed learning process. Now, youngs teach their parents to cope with new technologies that are taking over our daily lives. By analyzing the state of affairs, we present the most significant technological development in the Internet age phases. We attended a re-conceptualization of language due to the invasion of ICT. It's time to rethink culture and review the role of education in search of quality content for new generations who are living a decadent cultural scene. We propose to use the technological development for the benefit of free culture through participatory tools, horizontal structures and greater access to the contents. Interdisciplinearity is the key to successfully combine Art, Technology, Culture and Communication. Therefore the artists and professionals who use their creative abilities with their power of innovation, are able to offer a better response to the understanding of new approaches. So the more we promote a versatile profile among cultural managers, the better we can stimulate peripheral structures, marginal areas and hostile environments with the intention of recovering the essence of the most basic concepts. Energize the culture and art...
Description
Tesis inédita de la Universidad Complutense de Madrid, Facultad de Bellas Artes, leída el 15 de enero de 2016 ; presidente, Agustín Martín Francés
Collections