Publication:
Cobertura de carteras índice de renta variable con futuros sobre el IBEX 35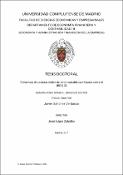 Files
Authors
Advisors (or tutors)
Editors
Publisher
Universidad Complutense de Madrid
Abstract
Las investigaciones relativas al ratio óptimo de cobertura con futuros de una cartera que replica un índice de renta variable se han llevado a cabo hasta la fecha mediante técnicas econométricas. Los modelos aplicados han ido perfeccionando sus especificaciones, pero todos ellos parten de unos supuestos que se alejan del mundo real, ya que no consideran el pago discreto de dividendos y se basan en una serie del futuro de próximo vencimiento que presenta saltos, al estar compuesta por mini-series encadenadas de futuros de distinto vencimiento. Como consecuencia de estas limitaciones, aunque la eficacia de la cobertura de los modelos econométricos puede considerarse satisfactoria en términos generales, se producen errores significativos en algunos puntos de la serie. La principal aportación de esta tesis a la investigación académica y a la práctica profesional de la gestión de carteras es la definición de un Modelo Algebraico de Cobertura (MAC) que no está basado en técnicas econométricas, es más sencillo de aplicar y superior en resultados104 a los modelos econométricos más utilizados hasta la fecha (MCO, ECM y GARCH) 105. El modelo MAC parte del supuesto de mercado eficiente y de la consideración de un horizonte temporal diario de la cobertura...
This thesis develops an algebraic model (hereinafter MAC) for hedging equity index portfolios with stock index futures as an alternative to econometric models (OLS, ECM, and GARCH) and assesses the efficacy of the model when applied to the IBEX 35 for the period 2007-2010. The model was formulated based on the efficient market hypothesis and an infinitesimal time horizon. When we relax these assumptions in the empirical analysis and apply the model to the real market with a daily time horizon, we obtain 99% efficacy of the hedge. The econometric models used to date for the calculation of the optimal hedging ratio do not include discrete dividend payouts and are based on a series of next-to-expire future prices that are subject to jumps in price, as it is composed of a chained series of futures with different maturities. Although the efficacy of econometric models can be considered satisfactory in general terms, their limitations can generate significant errors at some points in the series. The MAC model presented in this thesis as an alternative approach to econometrics models yields superior results, both in the efficacy of hedging is and in the ease of application in professional portfolio management...
Description
Tesis inédita de la Universidad Complutense de Madrid, Facultad de Ciencias Económicas y Empresariales, Departamento de Economía Financiera y Contabilidad III (Economía y Administración Financiera dela Empresa), leída el 22/10/2015
Collections