Publication:
Calidad de vida en la mujer con incontinencia urinaria y papel del profesional sanitario y de la paciente, dentro del marco asistencial de atención primaria en la Comunidad de Madrid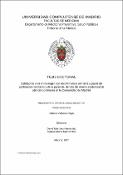 Files
Authors
Advisors (or tutors)
Editors
Publisher
Universidad Complutense de Madrid
Abstract
La incontinencia urinaria en la mujer constituye un problema médico y social importante que ocasiona un coste alto para la sanidad. Supone un impacto notable sobre la calidad de vida afectando a múltiples aspectos de la vida diaria, en su entorno social, físico, sexual, psicológico y doméstico. Las escasas investigaciones epidemiológicas a este respecto en nuestro área sanitaria, el desconocimiento de la frecuencia así como de los distintos tipos de incontinencia urinaria, su repercusión en la calidad de vida de la mujer, la actitud frente a la misma y la necesidad de investigar y sensibilizar sobre el abordaje desde el marco asistencial de la Atención Primaria, son los objetivos que han motivado la realización del presente trabajo. Se llevó a cabo un estudio observacional transversal, cuya población de estudio fueron mujeres mayores de 18 años de consultas médicas de dos Centros de Salud de la Dirección Asistencial Oeste de la Comunidad de Madrid, en quienes se detectó incontinencia urinaria tras la realización de un test validado en Atención Primaria. Entre las mujeres detectadas se entregaron unos cuestionarios para la valoración de la calidad de vida, autoadministrados, traducidos y validados en español. También se recogió información relacionada con la consulta o no de este problema en ámbitos profesionales y sociofamiliares, así como medidas tomadas. A partir de nuestros resultados vimos que la incontinencia urinaria es un problema frecuente en la mujer, que afecta a su calidad de vida de un modo moderado-leve. La mayoría de las mujeres nunca habían consultado por su incontinencia con un profesional sanitario, considerando que no tiene importancia, o bien que es un proceso normal. Las medidas tomadas por estas mujeres son principalmente paliativas (compresas y absorbentes). Entre las pocas mujeres que deciden consultar se opta principalmente por el médico de familia, que recomienda derivación a atención especializada y el uso de fármacos o absorbentes y siendo infrecuentes las medidas resolutivas como ejercitación suelo pélvico. A raíz de los resultados del estudio consideramos necesaria una mayor sensibilización por parte del médico de Atención Primaria, en la detección de la incontinencia urinaria en mujeres que acuden a la consulta y en su abordaje para lograr, con ello, una mejora en su calidad de vida.
Urinary incontinence (UI) is an important medical and social problem that affects approximately 6.5 million Spanish women and is a high cost for the health system. It represents a significant impact on quality of life (QOL), affecting many aspects of daily life: social, physical, sexual, psychological and domestic. Despite this impact, its prevalence is not well established, ranging between 20 and 50% in adult women of all ages. The number of patients diagnosed with UI in our country has been increasing in recent years and there is now a global prevalence of 24%. Currently, despite this growing trend, the impact it has on QOL and the cost involved, it remains one of the most unknown health problems to society, even to the doctors themselves, resulting in situations of marginalisation, isolation, under-diagnosis and under-treatment. This is due in part to the low rate of consultation by women with UI, as a result of erroneous considerations such as shame or acceptance, as well as ignorance of existing therapeutic options. Moreover, in a high percentage of women an appropriate procedure is not performed, even in those who consult with a professional. Besides the low consultation by patients, it is also noteworthy that primary care (PC) physicians in their daily practice don't actively search to bring the problem to its real dimension and tend to consider it unimportant. The early detection of women with UI is essential, as there is a better prognosis when approached in early stages. The scope of Primary Care is the ideal care level for early detection of women with UI, also because many of the conservative and preventive treatments can be offered...
Description
Tesis inédita de la Universidad Complutense de Madrid, Facultad de Medicina, Departamento de Medicina Preventiva, Salud Pública e Historia de la Ciencia, leída el 16-12-2015
Collections