Publication:
Nuevas fuentes de información y mala praxis periodística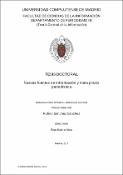 Files
Authors
Advisors (or tutors)
Editors
Publisher
Universidad Complutense de Madrid
Abstract
Este trabajo de investigación pretende trazar un dibujo (uno de los muchos posibles) de nuestro actual escenario comunicativo y periodístico. No desde el punto de vista de la producción, la estructura técnica o la difusión, sino desde el de los profesionales de la información y sus relaciones con las fuentes que se la proporcionan en los tiempos de la web 2.0, las redes sociales, los blogs y el frenetismo online. La idea de este estudio nace en un contexto de crisis general. Económica, política, social y, por supuesto, mediática. Y de la necesidad de plantear interrogantes sobre el origen del aparente descrédito de nuestra profesión entre el público y las realidades informativas alternativas que surgen a nuestro alrededor y que, según algunos, echan un pulso (y están ganando) al periodismo tradicional. Hablamos de todos esos actores emisores de comunicación cuya existencia es posible gracias a las nuevas tecnologías y que son, al mismo tiempo, fuentes e intermediarios de información. Los periodistas vemos que nuestro entorno de trabajo cambia, los avances multiplican las posibilidades técnicas, actores que hasta ahora no conocíamos entran en juego cambiando, supuestamente, las reglas del juego, la sociedad no parece tener buena imagen de nosotros y la crisis nos sitúa al borde del abismo...
This research aims to paint a picture (one of many possible) of our current communication and journalist scene. Not from the point of view of production, the technical structure or distribution, but from the information professionals draw on and their relationships with the sources who provide it in the age of Web 2.0, social networks, blogs and the online frenzy. The idea of this study was born in the context of a general crisis. Economic, political, social and, media crisis. We need to ask questions about the origin of the apparent discrediting of our profession between the public and the reality of alternate information that is arising around us. Some people say these alternative sources are like arm wrestling traditional journalism, and winning!. We talk about all these actors (as communication issuers) whose existence is possible by the new technologies. They are, at the same time, information sources and intermediaries. The journalists see how our work environment changes, technical advances increase the possibilities, actors we did not know before now come into play changing the game rules, society seems to have no good image of us and the crisis puts us on the razor edge. New and abundant sources are arriving that have potential to crash through traditional obstacles of our profession, such as shortage of information. But we wonder if the overflow of information comes with risk; risks such as toxicity, noise, inaccuracy and error. New communication platforms were born to give the power of broadcast media to all citizens, breaking down another wall, also traditional: the difficulty of mutual access between society and the media. But we wonder the consequences of free will, of bickering, human stories, opinions and comments. Perhaps the social tsunami gives us an unimaginable wealth but makes it harder than ever to compare and verify information...
Description
Tesis inédita de la Universidad Complutense de Madrid, Facultad de Ciencias de la Información, Departamento de Periodismo III (Teoría General de la Información), leída el 04/02/2016
Collections