Publication:
El Toisón de Oro: de Felipe III "El Bueno" a Felipe VI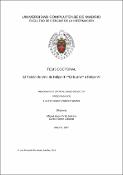 Files
Authors
Advisors (or tutors)
Editors
Publisher
Universidad Complutense de Madrid
Abstract
El objeto de la investigación es la Insigne Orden del Toisón de Oro, que es una de las órdenes dinásticas más importantes del mundo cuya soberanía corresponde al reino de España. La elección de este trabajo ha hecho posible investigar y aprender acontecimientos vitales de un largo e importantísimo periodo de la historia, no sólo de España sino también de parte de Europa, permitiéndonos entender mejor nuestra actual monarquía y las razones de la evolución de la Orden hasta nuestros días. La Tesis ha tenido como objetivo general conocer las razones por las que se creó la Insigne Orden del Toisón de Oro y desarrollar un trabajo de investigación sobre su evolución a través de la historia de España durante casi VI siglos. Como objetivos específicos hemos considerado necesario, a lo largo del trabajo de campo, comprobar, que el ducado de Borgoña fue la cuna de la Orden; constatar que el Toisón, además de ser una Orden caballeresca y dinástica, persiguió objetivos políticos y de estrategia dentro y fuera de los territorios borgoñones; conocer en más profundidad como fue el ceremonial en el ducado y en la Orden confirmando que el llamado Uso de Borgoña se implantó en el reino de España, tras la llegada a nuestra corte, de Felipe el Hermoso, hijo de Maximiliano y María de Borgoña, como resultado de su matrimonio con la hija de los reyes Católicos, la infanta doña Juana, existiendo, en la actualidad, cierta influencia, del ceremonial borgoñés, en nuestro ordenamiento protocolario; ratificar que la soberanía del Toisón tuvo, como consecuencia de la guerra de Sucesión, tras la muerte del rey Carlos II de España, sin descendencia, dos ramas diferentes: española y austríaca; así como, demostrar la pérdida de influencia que los descendientes dinásticos de la Insigne Orden, han sufrido en estos últimos siglos por la mayor mediación del gobierno en los nombramientos de sus miembros, entre otros objetivos...
The objetct of the research is the Distinguished Order of the Golden Fleece that is one of the most important dynastic orders in the world whose sovereignity belongs to Spanish Kingdom. The election of this work has made possible to investigate and learn essential events about a long and important period of the History, not only in Spain but also in the rest of Europe making possible to understand our monarchy and the reasons of the Order evolution until nowadays. The thesis has had as general object knowing the reasons of the Golden Fleece creation and develope a research task about the evolution through Spanish History during almost six centuries. Specific objectives have been considered, as testing that the Burgundy duchy was the Cune of the Order, checking that the Golden Fleece although it is a chivalrous and dynastic order has chased political and strategy aims indoors and outdoors of the Burgundy territories; knowing how was the ceremonial in the duchy and in the order testing that the Burgundy use was implanted in Spain. After the arrival of Philip the Handsome to our Court, son of Maximilian and Mary of Burgundy, as a result of his engagement with the Catholic kings daughter, Juana, existing nowadays some influence of the Burgundy ceremonial in our formal system, also it is necessary to confirm that the Golden Fleece sovereignity has as a consequence of the War of Succession, after de Charles The Second death, two different branches: the Spanish and the Austrian...
Description
Tesis inédita de la Universidad Complutense de Madrid, Facultad de Ciencias de la Información, leída el 23-11-2016
Collections