Publication:
La fórmula καθάπερ ὲκ δίκης en los papiros jurídicos del Egipto romano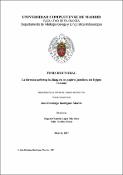 Files
Authors
Advisors (or tutors)
Editors
Publisher
Universidad Complutense de Madrid
Abstract
La fórmula καθάπερ ἐκ δίκης es, sin ninguna duda, la fórmula más importante de las que se encuentran en los papiros jurídicos de Egipto durante el período romano (MODRZEJEWSKY TJ 31-1963, 114), ya que se puede encontrar en todo tipo de contratos: desde obligacionales (préstamos, compraventas, alquileres, promesas, etc.) hasta de derechos reales (cesiones de terrenos), así como en acuerdos matrimoniales o donationes mortis causa, por sólo citar algunos ejemplos. Por otra parte, está atestiguada en todo el período romano, desde la anexión de Egipto como provincia romana (31 a.C.) hasta en los últimos documentos de época bizantina (s. VII d.C.), estando estos testimonios repartidos geográficamente por todo el territorio egipcio. Además, se encuentra también no sólo en época ptolemaica, sino también en documentos epigráficos a lo largo y ancho del Mediterráneo griego. Pero a pesar de la gran cantidad de testimonios y de la variedad de los documentos en que encontramos la fórmula, todavía no se ha podido precisar su naturaleza, significado y función, siendo aún objeto de discusión en la doctrina. Durante mucho tiempo, sin embargo, la cuestión parecía clara, pues desde la identificación del primer testimonio de la fórmula en el s. XIX (en la edición de 1843 de P.Leid. O) y en los primeros estudios detallados sobre ella (MITTEIS, HITZIG, BRASSLOFF, SCHWARZ, JÖRS, etc.), los especialistas eran prácticamente unánimes en cuanto a su consideración como una "cláusula ejecutiva", es decir, una fórmula contractual que permitía al acreedor tomar posesión de la persona del deudor y de sus bienes en caso de que éste no hubiera cumplido las obligaciones incluidas en el contrato. De acuerdo con esta interpretación, el significado literal de la expresión "καθάπερ ἐκ δίκης" sería: "(la ejecución se llevará a cabo) como si hubiese recaído sentencia". En otras palabras, el acreedor podría ejecutar las obligaciones del contrato sin necesidad de recurrir al juez para que emitiese un veredicto previo a su favor. Por tanto, la adición de una fórmula καθάπερ ἐκ δίκης a un documento convertiría éste en lo que la doctrina alemana denomina un "Exekutivurkunde", un documento que permite la ejecución forzosa de las obligaciones incumplidas sin intervención de la autoridad...
The καθάπερ ἐκ δίκης clause is, without any doubt, the most important formula included in Egyptian legal papyri during the Roman period (MODRZEJEWSKY TJ 31-1963, 114), for it can be found in all sorts of contracts, from obligational ones (loan, selling renting, promises, etc.) to realstate conventions (cessions of land), as well as in matrimonial agreements or donationes mortis causa, just to mention some examples. It is also attested all along the Roman period, from the annexation of Egypt as a Roman province (31 BC) to the latest documents of the Byzantine time (7th Century AD), and there are testimonies of it geographically widespread all along the Egyptian territory. Furtherore, it can be found not only in Ptolemaic times, but also in epigraphical documents all around the maritime Greek domains. But despite the great amount of testimonies and the variety of the documents in which the clause is found, its exact nature, meaning and function are nowadays under discussion. For a long time, though, it has been a settled and undiscussed matter, for already since the first time the clause was identified in the 19th Century (1843 edition of P.Leid. O) and after the first detailed studies about it (MITTEIS, HITZIG, BRASSLOFF, SCHWARZ, JÖRS, etc.), the scholars were almost unanimous in considering it an "enforcement clause", that is to say, a clause that allowed the creditor to seize the debtor and his belongings in case the latter did not accomplish the obligations included in the contract...
Description
Tesis inédita de la Universidad Complutense de Madrid, Facultad de Filología, Departamento de Filología Griega y Lingüística Indoeuropea, leída el 17-07-2017
Collections