Publication:
El Quijote educador. Segunda parte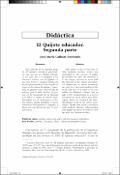 Authors
Advisors (or tutors)
Editors
Abstract
Este artículo es la segunda parte de «El Quijote educador», publicado en esta sección de Diálogo Filosófico en 2005. En él se propone a los docentes trabajar con el Quijote en las aulas físicas y virtuales. Invita a la lectura personal de la obra, estudia su papel en la cultura hispánica, y considera el Quijote como una escuela de valores para la vida. Analiza el Quijote en la enseñanza de la Filosofía y la Ética, y anima al trabajo interdisciplinar en el currículum escolar. Por último, aporta múltiples recursos didácticos bibliográficos y digitales, y llega a la conclusión de que el Quijote educa.
This article is the second part of «The Quixote teacher», which was published in this section of Diálogo Filosófico in 2005. My intention is to encourage teachers to work with the Quixote in the virtual and physical classrooms. It invites everybody not only to a personal reading of the book, but also to a study of its role within the Hispanic culture and to take it into consideration as a tool in education to teach ethics and philosophy. And it is proposed the interdisciplinary work in the school curriculum. Finally, this article contributes with multiple didactic, bibliographic and digital resources in order to sum up what the Quixote teaches.
Description
Sección de Didáctica de la Revista Diálogo Filosófico.
Collections