Publication:
Dolostone origin in the Riópar area (SE Spain): implications on the geology of the Prebetic Zone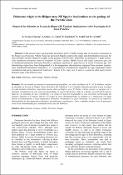 Advisors (or tutors)
Editors
Publisher
Sociedad Geológica de España.
Abstract
In the present study a petrographic description and C-O stable isotope data of dolostone occurrences at the Riópar area (Mesozoic Prebetic Zone) are presented. Results constrain the origin and dolomitization processes for each dolomitic unit providing new insights on the geology of the Prebetic. Dolostones are grouped in: i) large seismicscale stratabound dolostones hosted in limestones of Lower Jurassic, Middle Jurassic and Upper Cretaceous ages; and ii) stratabound and patchy dolostones hosted in a carbonatic sequence of Upper Jurassic to Lower Cretaceous age. Two dolomitizing origins have been distinguished: i) a low-temperature dolomitization originated from seawater (seismicscale stratabound dolomitized limestones); ii) a hydrothermal dolomitization originated by high temperature brines (stratabound and patchy dolomitized limestones). Results of this study can be used as a guide for other poorly known dolomitic areas in the Prebetic Zone.
En este estudio se presenta la descripción petrográfica y los datos isotópicos de C y O de distintos cuerpos de dolomías en la zona de Riópar (Zona Mesozoica del Prebético). Los resultados obtenidos permiten acotar el origen de cada miembro dolomítico, aportando nuevos datos geológicos en el Prebético. Dichos cuerpos se agrupan en: i) dolomías estratiformes de gran extensión hospedadas en calizas del Jurásico Inferior y Medio, así como del Cretácico Superior; ii) dolomías de tipo estratiforme y en forma de parches hospedadas en una secuencia carbonatada del Jurásico Superior al Cretácico inferior. El origen de estas dolomitizaciones se atribuye a: i) interacción con agua marina presumiblemente a baja temperatura (dolomías estratiformes de gran extensión); ii) presencia de salmueras hidrotermales de alta temperatura (dolomías estratiformes y parcheadas). Estos resultados pueden servir de guía para otras áreas dolomitizadas poco estudiadas en la zona del Prebético.
Collections