Publication:
El retrato de Ovidio según el tipo de libro en el que aparece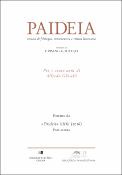 Authors
Advisors (or tutors)
Editors
Abstract
Augustus banished Ovid from Rome, and tried to banish him from the canon too. His poems could have disappeared, but they were privately kept and read, almost clandestinely. From the 11th c. onwards, "Metamorphoses", "Art of Love", "Heroides", etc. were copied and academically studied more and more often. Scholars made compendia and commentaries, and even allegorised and moralised versions. Thus, Ovid became a leading canonical author. Indeed, Ovid's portraits appeared everywhere, not only in editions of his own poems, but also in works that include him as a character, or even in completely non-Ovid-related books.
Collections