Publication:
La Agenda Europea de Migración se despliega muy lentamente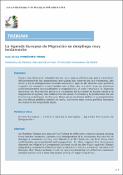 Advisors (or tutors)
Editors
Abstract
Como los Estados miembros no son autosuficientes para resolver eficientemente las cuestiones derivadas del control de las fronteras, del asilo y de la inmigración resulta menester que la UE diseñe una política común de manera coordinada con ellos, de manera que se sientan suficientemente acompañados y respaldados. A este respecto la Agenda Europea de Migración propone acciones tales como la lucha contra la migración irregular, los traficantes de seres humanos y la protección de las fronteras exteriores de Europa. Pero estas acciones deben ir acompañadas de una eficaz política común de asilo, así como una nueva política europea en materia de migración legal.
As Member States are not self-sufficient to efficiently resolve issues arising from border controls, asylum and immigration it is necessary for the EU to design a common policy coordinated with them so, so that they feel sufficiently accompanied and supported. In this regard the European Agenda on Migration proposed actions such as the fight against illegal migration, human traffickers and protection of the external borders of Europe. But these actions must be accompanied by an effective common asylum policy and a new European policy on legal migration.
Collections