Publication:
La fotografía de David Lynch: un viaje a la identidad en "Inland Empire"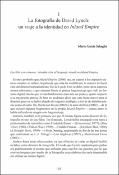 Authors
Advisors (or tutors)
Citation
AUBRON, Hervé, DELORME, Stéphane y TESSÉ, Jean-Phillipe. "Entretien avec David Lynch. Un sphinx souriant", en Cahiers du Cinéma, nº 620, (2007). AUMONT, Jacques. El rostro en el cine, Paidós, Barcelona, 1998. CABELLO, Gabriel. La vida sin nombre. La lógica del espectáculo según David Lynch, Biblioteca nueva, Madrid, 2005. CASAS, Quim. David Lynch, Cátedra, Madrid, 2007. CASAS, Quim, NAVARRO, José Antonio, SALA, Ángel, PINTOR IRANZO, Iván, VIDAL, Nuria y ZAPATER, Juan. Universo Lynch, Calamar Ediciones, Madrid, 2006. CASTRO FLÓREZ, Fernando. Escaramuzas: El arte en el tiempo de la demolición, Cendeac, Murcia, 2003. CERVERA, Rafael. "David Lynch", Fotogramas, nº 1787, (1992). CHION, Michel. David Lynch, L'Étoile/Cahiers du cinéma, Paris, 1998. CIMENT, Michel y NIOGRET, H, en Positif, num.356, octubre de 1990. DOLEŽEL, Lubomir. "Una semántica para la temática: el caso del doble", en Estudios de poética y teoría de la ficción, Universidad de Murcia, Murcia, 1999. ELSAESSER, Thomas. German Cinema - Terror And Trauma: Cultural Memory Since 1945, Routledge, 2013. FOUBERT, Jean. "Mulholland Blvd. Sunset Dr.", Positif, nº 517, (2004). HISPANO, Andrés. David Lynch, Claroscuro americano, Glénat, 1998. JOUSSE, Thierry. David Lynch, Maestros del cine, Cahiers du Cinemà, 2010. KALETA, Kenneth C. David Lynch, Twayne Publishers, Nueva York, 1992. LYNCH, David. Atrapa el pez dorado, Literatura Random House, Madrid, 2014. LYNCH, David y RODLEY, Chris. Lynch on Lynch (revised edition), Faber and Faber, Nueva York, 2005. MCGOWAN, Told. The Impossible David Lynch. (Film and Culture Series), Columbia University Press, Nueva York, 2007. NAUPERT, Cristina. La tematología comparatista: entre teoría y práctica, Arco Libros, Madrid, 2001. ORTIZ DE ZÁRATE, Amaya. Retratos de un sueño. A propósito de David Lynch, Castilla Ediciones, Valladolid, 2011. PAYÁN, Miguel Juan. David Lynch, Ediciones JC, Madrid, 1991. RODLEY, Chris. David Lynch por David Lynch, Alba Trayectos, Barcelona, 2001. RODLEY, Chris. Lynch on Lynch, Faber & Faber Limited, Londres, 1997. SHEEN, Erika y DAVISON, Annette (ed.). The Cinema of David Lynch. American Dreams, Nightmare Visions. Wallflowers Press, Londres, 2004. Photographer's Gallery, 2014, en: [http://thephotographersgallery.org.uk/the-factory- photographs]. Barnes, F., David Lynch interview, Time Out London, lunes 13 de febrero de 2014, en: [http://www.timeout.com/london/art/david-lynch-interview-there-is-something- so-incredibly-cosmically-magical-about-curtains]. The ASC: The American Society of Cinematographers, en: [https://www.theasc.com/ac_magazine/April2007/PostFocus/page1.php].
Collections