Publication:
Parodias en la fotografía actual: Chema Madoz, Joan Fontcuberta y Cristina de Middel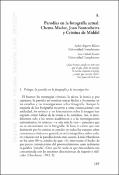 Advisors (or tutors)
Publisher
Comunicación Social Ediciones y publicaciones
Abstract
Tres autores contemporáneos nos parecen interesantes en la reflexión sobre la parodia: Chema Madoz, Joan Fontcuberta y Cristina de Middel. Aunque con técnicas, estilos y perspectivas completamente distintas y pertenecientes a generaciones diversas, ellos han recurrido —y recurren— a la parodia en sus trabajos artísticos. No solo esto, sino que, además, todos ellos han elogiado abiertamente el humor y la risa, algo que como vimos es poco frecuente en el trabajo académico sobre este arte. Las tres fotografías que tratamos abordan de un modo u otro el universo, las constelaciones o la carrera espacial. Las tres evocan —y parodian con distintas estrategias— el lenguaje de la ciencia, la historia y la astronomía. Se acercan por tanto al tema académico y al coleccionismo histórico propio del museo del siglo XIX o al gabinete de curiosidades de los burgueses del XVIII. Resulta obvio comprender que Madoz es conocedor de las cartas de constelaciones clásicas, que Fontcuberta ha consultado los documentos soviéticos sobre la cosmonáutica o que De Middel ha rebuscado en el imaginario colonial y postcolonial; su manipulación comienza precisamente porque tienen un modelo previo al que parodiar.
All three evoke—and parody with different strategies—the language of science, history, and astronomy. Therefore, they approach the academic theme and the historical collecting typical of the 19th century museum or the cabinet of curiosities of the 18th century bourgeois. It is obvious to understand that Madoz is familiar with the classic constellation charts, that Fontcuberta has consulted Soviet documents on cosmonautics or that De Middel has searched the colonial and postcolonial imaginary; their manipulation begins precisely because they have a previous model to parody.
Collections