Publication:
"El cielo de Lima" de Juan Gómez Bárcena: su poética de la ficción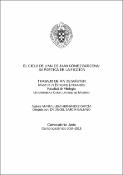 Authors
Advisors (or tutors)
Editors
Abstract
Tomando como marco teórico la pragmática literaria y tras delimitar los conceptos de ficción y de poética y los diferentes estilos de narrar, se aborda la investigación de la poética subyacente en esta novela, a través del análisis del narrador, los personajes, el espacio y el tiempo; descubriendo como su rasgo más característico una estructura de mundos interactuantes que configuran un espejo múltiple del pacto de ficción.
In the frame of Literary Pragmatics, this paper analyses the concepts of fiction, poetics and styles of narrating. Afterwards, it applies such concepts in order to discover the poetics lying under that novel, studying its narrator, characters, time and space; concluding with the presentation of a structure of interactive worlds which configures a multiple mirror of the fictional pact.
Dans le cadre de la pragmatique littéraire, on délimite les définitions de fiction et de poétique et les styles du récit, et applique ces concepts à l'étude de ce roman, en analysant le narrateur, les personnages, le temps et l'espace, pour finalement arriver à une structure dont divers mondes agissent les uns sur les autres configurant, comme trait principal de la poétique de ce roman, un miroir multiple du pacte de fiction.
Description
TFM evaluado en la convocatoria de junio de 2015, con la calificación de Sobresaliente (9,6).