Publication:
La religión en el espacio público: los símbolos religiosos ante el derecho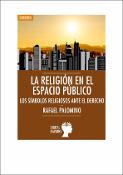 Authors
Advisors (or tutors)
Editors
Abstract
Desde hace ya algunos años la simbología de carácter religioso ha sido un tema constante en los países de nuestro entorno. Lo que en otras épocas no pasaba de ser una anécdota, con el comienzo del siglo XXI se ha hecho habitual y reclama la atención de políticos y juristas. El Derecho se ha encontrado con un filón de problemas prácticos a nivel nacional, regional e internacional. La complejidad de la materia, la disparidad de supuestos que se han planteado —y que se plantearán—, la importancia del estudio comparativo de este tema, permiten afirmar que estamos ante una especialidad de estudio jurídico académico. Este trabajo se fundamenta en tres elementos básicos de estudio. El primer de ellos es el concepto y morfología del símbolo religioso. Los otros dos elementos de estudio atienden al contexto en el que el símbolo se presenta: el "espacio" físico o inmaterial, por un lado, y las "personas" portadoras de los símbolos religiosos, por otro. A partir de estos dos elementos —espacios y personas— se modulan diversas situaciones con características singulares que determinan la especialidad de cada supuesto. Todo ello, marcado por un estudio comparativo, que se ha consolidado como método particularmente apto para abordar el tema con un mínimo grado de perspectiva y rigor.
For some years now, religious symbols have been a conflictive issue in Western countries. Legal and social issues concerning religious symbols were in the past but an anecdote. However, with the beginning of the XXI century they have become quite frequent and demand the attention of politicians and lawyers. The Law has faced with a vein of practical problems at the national, regional and international levels. The complexity of the matter, the disparity of cases that have been raised, the importance of Comparative law in this subject, etc. evidence that the legal study of religious symbols has become an specific field. This work is based on three basic elements of analysis. The first is the concept and morphology of religious symbol. The other two elements of study focus on the context in which the symbol is presented: the physical or immaterial "space" and the "people" carrying religious symbols. From these two elements -spaces and people- various situations with unique characteristics determine the specialty of each issue.
Description
el archivo pdf contiene el índice y la introducción del libro
Collections