Publication:
Inclusive robotics for the employment people with disabilities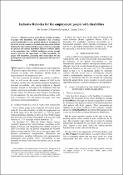 Advisors (or tutors)
Editors
Abstract
Robotics can be a great ally for the labor inclusion of people with disabilities. Job adaptations that previously seemed unthinkable are now possible thanks to technology. In this work, several examples of technological innovations that can facilitate the labor inclusion of the group are reviewed, especially for physical and sensory disabilities. Inclusive robotics, thanks to the opportunity that Artificial Intelligence creates through sensors, open for the opportunity of wider accessibility for people with disabilities, promoting their independent life and participation in all aspects of life on equal terms with the rest of the population.
La robótica puede ser una gran aliada para la inclusión laboral de las personas con discapacidad. Las adaptaciones laborales que antes parecían impensables ahora son posibles gracias a la tecnología. En este trabajo se repasan varios ejemplos de innovaciones tecnológicas que pueden facilitar la inclusión laboral del colectivo, especialmente para discapacidades físicas y sensoriales. La robótica inclusiva, gracias a la oportunidad que crea la Inteligencia Artificial a través de sensores, abre la oportunidad de una mayor accesibilidad para las personas con discapacidad, promoviendo su vida independiente y participación en todos los aspectos de la vida en igualdad de condiciones con el resto de la población.
Description
Publish at: Grau Ruiz, M.A. (eds) Interactive Robotics: Legal, Ethical, Social and Economic Aspects. INBOTS 2021. Biosystems & Biorobotics, vol 30. Springer, Cham. may 2022, pages 59-65.