Publication:
Estudio comparativo in vitro sobre las características físicas y mecánicas de tres materiales provisionales, para su uso en prótesis dental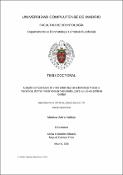 Files
Authors
Advisors (or tutors)
Editors
Publisher
Universidad Complutense de Madrid
Abstract
El presente proyecto centró sus objetivos en evaluar y comparar la estabilidad cromática, fluorescencia, microdureza, flexión, módulo de elasticidad y compresión de una resina acrílica y dos bis-acrílicas, empleadas en Odontología para confeccionar provisionales mediante técnica directa. Los ensayos se realizaron 24h después de la elaboración de las muestras (T0) y después de someterlas a un proceso de termociclado, o envejecimiento artificial acelerado (T180). El estudio del color y la fluorescencia se realizó en el Departamento de Estomatología I de la UCM. Se empleó el espectrofotómetro VITA Easyshade Compact para estudiar las tres coordenadas L*, a* y b*, de ambos parámetros. También se estudió el Delta E* (ΔE*) para describir de manera cuantitativa los cambios cromáticos observados. Se consideraron clínicamente inaceptables valores de ΔE*≥ 3,3. La dureza, resistencia que ofrece un material a la penetración de su superficie, se estudió mediante el método Knoop, según la Norma UNE-EN ISO 4545; 1-4: 2005. La resistencia a la flexión y el módulo de elasticidad son magnitudes fundamentales para conocer la resistencia de un material a las fuerzas oclusales. La primera se refiere a la carga máxima que puede soportar el material antes de fracturarse. Se realizó un ensayo de flexión en 3 puntos, según la Norma UNE-EN ISO 178: 2010. El módulo de elasticidad es una medida de la rigidez del material: a mayor módulo, mayor resistencia a la flexión..
Provisional restoration is an important rehabilitation phase in fixed prosthodontic therapy, it should provide pulpal and periodontal protection, showing marginal integrity and aesthetics, should also have enough durability in order to resist the mastication forces. Patients with bruxism or those, whose treatment require long-term use of provisional restorations, need material with better optical and mechanical properties. The present study research studied the chromatic stability, fluorescence, Knoop microhardness, flexural strength, elastic modulus and compressive strength of an acrylic resin and two bi-acrylic resins, used in odontology in the manufacturing of temporaries with a direct technique. -The colour study is paramount in aesthetic odontology. It has a significant weight when the patients weigh the quality of a restoration, especially when it is in the anterior region. The colour may be described in terms of its three coordinates L*, a* and b*; or L*, C* and h°. However, colour changes are quantitatively described through Delta E* (ΔE*). Most of the researches agree that values of ΔE*≥ 3.3 are clinically unacceptable in odontology. -Fluorescence is the ability that some crystalline elements have of being able of absorbing energy in the shape of short-waved electromagnetic radiations (gamma radiation, x rays, UV light, blue light) and subsequently sending out, spontaneously, part of said energy in the shape, for instance, of a longer wave, within the visible spectrum...
Description
Tesis inédita de la Universidad Complutense de Madrid de la Facultad de Odontología, Departamento de Estomatología I, leída el 30-10-2015
Collections