Publication:
Compresiones neurovasculares de la fosa craneal posterior en la neuralgia del trigémino. Estudio anatomoclínico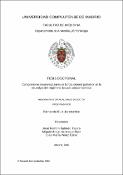 Files
Authors
Advisors (or tutors)
Editors
Publisher
Universidad Complutense de Madrid
Abstract
La neuralgia del trigémino (NT) es un síndrome doloroso facial caracterizado por un dolor neuropático paroxístico irradiado al territorio sensitivo del nervio trigémino. A lo largo de las últimas décadas la creciente evidencia experimental y clínica ha contribuido a establecer la teoría de una compresión neurovascular (CNV) del nervio trigémino como causa fundamental de este trastorno. Esta teoría apoya el tratamiento quirúrgico de la NT mediante una descompresión microvascular (DMV). Actualmente la DMV es aceptada como la primera opción de tratamiento quirúrgico de la NT refractaria a tratamiento médico. Pese a la cantidad de trabajos que analizan la utilidad de la RM preoperatoria con secuencias de alta resolución volumétricas potenciadas en T2 (RM 3DT2), no hay unanimidad respecto a la precisión de estas secuencias de RM para el diagnóstico y la caracterización de una posible CNV en pacientes con NT refractaria candidatos a tratamiento mediante DMV...
Trigeminal neuralgia (TN) is a facial pain syndrome characterized by paroxysmal neuropathic pain irradiated to the trigeminal sensitive territory. Over the past decades the growing experimental and clinical evidence has contributed to establish the theory of neurovascular compression (NVC) as the main cause for this disorder. This theory supports the use of microvascular decompression (MVD) for the treatment of TN. Currently MVD is accepted as the first surgical treatment option for medically refractory TN. Despite the number of studies analyzing the usefulness of preoperative MRI with highresolution T2-weighted volumetric sequences (3DT2 MRI), there is no consensus in regard to the precision of such MRI sequences for the diagnosis and characterization of an eventual NVC in patients with refractory TN considered for MVD...
Description
Tesis inédita de la Universidad Complutense de Madrid, Facultad de Medicina, Departamento de Anatomía y Embriología, leída el 13/01/2016
Collections