Publication:
Una herramienta de recomendación y búsqueda de restaurantes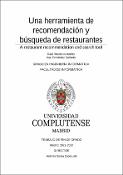 Advisors (or tutors)
Editors
Abstract
En este trabajo se recoge tanto la especificación, diseño e implementación de una aplicación móvil capaz de generar recomendaciones de restaurantes en base al perfil del usuario junto a una aplicación web que permite dar de alta restaurantes a los propietarios de estos. Las principales funciones de la aplicación móvil son la posibilidad de buscar entre los restaurantes que se encuentran en el municipio de Madrid, recomendar restaurantes a amigos registrados en la aplicación, consultar los restaurantes favoritos del propio usuario o de otros usuarios, recibir recomendaciones basadas en los gustos del usuario y de otros usuarios afines así como en información personal tal como la localización respecto al restaurante, el precio medio gastado normalmente al acudir a un restaurante o los tipos de gusto del usuario. Los restaurantes que se obtienen en las recomendaciones se acompañan de las valoraciones y comentarios que han aportado otros usuarios de la aplicación.
This work includes the specification, design and implementation of a mobile restaurant recommendation application and a web application to register restaurants by owners. It contains all the components of the system, from the clients, owners or administrators; the services offered and the systems that are integrated in the application. In addition, different graphical figures and tables will be provided for its comprehension. The application gives users the opportunity to choose among the various restaurants in the municipality of Madrid, recommend restaurants to friends of the application, consult the user's favorite restaurants and get recommendations according to the tastes of the user and other like-minded users through various components such as the location with respect to the restaurant, the average price spent and the types of taste of the user. These restaurants will be accompanied by the ratings and comments provided by the users of the application.
Description
Trabajo de Fin de Grado en Ingeniería Informática, Facultad de Informática UCM, Departamento de Sistemas Informáticos y Computación, Curso 2021/2022.