Publication:
Análisis de Malware en Android II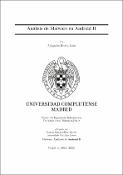 Authors
Advisors (or tutors)
Editors
Abstract
Android es uno de los sistemas operativos más utilizados en todo el mundo, su popularidad ha ido aumentando a lo largo de los años gracias a su versatilidad y a que se trata de un sistema de código abierto. Hoy en día Android está presente en una gran variedad de dispositivos de uso cotidiano como dispositivos móviles, televisores, chromecasts... Este incremento de popularidad ha propiciado un aumento exponencial del número de ataques a este tipo de dispositivos, debido a que son un objetivo muy lucrativo para los cibercriminales por la gran cantidad de datos personales que almacenamos en ellos. Por ello, la seguridad de estos dispositivos ha pasado a ser un pilar muy importante dentro del sector de la ciberseguridad. Con este trabajo se pretende indagar en las tendencias de malware actuales, investigar sobre las capacidades de detección e implementación de un sistema anti-malware basado en el uso de reglas Yara y, por último, presentar la herramienta Yaralyze, desarrollada para detectar malware usando análisis estático, basado en la búsqueda de coincidencias mediante reglas Yara y la comparación de hashes.
Android is one of the widely used operating systems in the world, its popularity has been increasing over the years thanks to its versatility and the fact that it is an open source system. Nowadays Android is present in a wide variety of everyday devices such as mobile devices, televisions, chromecasts... This increase in popularity has led to an exponential increase in the number of attacks of these devices, as they are a very lucrative target for cybercriminals fue to the large amount of personal data store on them. For this reason, the security of these devices has become a very important pillar within the cybersecurity field. The aim of this work is to investigate current malware trends, investigate the detection capabilities and implementation of an anti-malware system based on the use of Yara rules and, finally, present the Yaralyze tool, developed to detect malware using static analysis, based on the search for matches using Yara rules and the comparision of hashes.
Description
Trabajo de Fin de Grado en Ingeniería Informática, Facultad de Informática UCM, Departamento de Arquitectura de Computadores y Automática, Curso 2021/2022.