Publication:
Disfunción endotelial renal y estrés oxidativo en la obesidad : papel de la proteína quinasa activada por AMP (AMPK)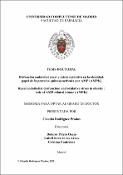 Files
Authors
Advisors (or tutors)
Editors
Publisher
Universidad Complutense de Madrid
Abstract
La AMPK es un sensor clave del estado energético de la célula, activándose en situaciones de déficit de energía para promover rutas catabólicas como la glucólisis y la β-oxidación de ácidos grasos y obtener así ATP que asegure la homeostasis y supervivencia celular (Hardie et al., 2016). Además de su papel en el metabolismo, la AMPK participa en la regulación de la autofagia (Alers et al., 2012), la biogénesis mitocondrial (Zong et al., 2002) y la función vascular (Salt & Hardie, 2017). Asimismo, se ha descrito que la AMPK está implicada en la regulación de la producción de ROS derivadas de las NADPH oxidasas y de las mitocondrias en la vasculatura (Wang et al., 2012), así como también en la modulación de la inflamación vascular (Katerelos et al., 2010).El riñón es un órgano con una alta tasa metabólica y un gran consumo de energía. La AMPK se expresa de forma ubicua y abundante en el riñón e interviene en la regulación del transporte tubular, el metabolismo renal de lípidos y glucosa y la función de los podocitos, entre otras muchas funciones (Hallows KR, 2010). Sin embargo, sus funciones en la vasculatura renal no se conocen con exactitud...
AMPK is a key cellular energy sensor that is activated in energy deficiency states to stimulate catabolic pathways such as glycolysis and β-oxidation of fatty acids and thus obtain ATP that ensures homeostasis and cell survival (Hardie et al., 2016). In addition to its role in metabolism, AMPK participates in the regulation of autophagy (Alers et al., 2012), mitochondrial biogenesis (Zong et al., 2002) and vascular function (Salt & Hardie, 2017). AMPK is also involved in the regulation of ROS production derived from NADPH oxidases and mitochondria in the vasculature (Wang et al., 2012), as well as in the modulation of vascular inflammation (Katerelos et al., 2010).The kidney is an organ with a high metabolic rate and energy consumption. AMPK is abundantly expressed in the kidney and is implicated in the regulation of tubular transport, lipids and glucose metabolism and podocyte function, among many other functions (Hallows KR, 2010). However, its role in the renal vasculature is unknown...
Description
Tesis inédita de la Universidad Complutense de Madrid, Facultad de Farmacia, Departamento de Fisiología, leída el 04-10-2021
Collections