Publication:
Aníbal Núñez: una relectura del tópico barroco de la ruina en el siglo veinte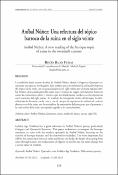 Authors
Advisors (or tutors)
Editors
Publisher
Universidad de Concepción, Facultad de Humanidades y Arte, Departamento de Español
Abstract
La tradición áurea recorre la obra de Aníbal Núñez, donde Góngora y Quevedo encuentran un espacio privilegiado. Este trabajo trata de enfrentar la utilización barroca del tópico de la ruina con su actualización en el siglo veinte por el poeta español Aníbal Núñez, destacando para ello tanto la pervivencia de rasgos estrictamente barrocos como las variaciones sobre el motivo que inevitablemente conlleva su incorporación en el contexto del siglo veinte. Se resaltará la concepción cíclica del tiempo, la identificación de la ruina con la casa y con el cuerpo, la esperanza de redimir el carácter destructivo de la ruina por la naturaleza, la sustitución del peregrino por el paseante y la conversión de la ruina en espacio sagrado y de conocimiento.
Golden Age Tradition has a great relevance in Aníbal Nuñez's poetry, particularly Góngora and Quevedo's literature. This paper endeavours to compare the baroque treatment to ruins with the modern approach by Aníbal Núñez, focusing on the survival of baroque features and the innovations included. The most important loci will be the connection between ruins and home and body, the hopes of escaping from ruins through nature, the replacement of pilgrim by stroller and the ruin's change into a sacred space of wisdom.
Collections