Publication:
La identidad ensamblada: la ordenación de la felicidad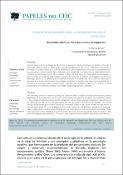 Authors
Advisors (or tutors)
Editors
Publisher
Centro de Estudios sobre la Identidad Colectiva. Universidad del País Vasco
Abstract
Inscrito dentro de la sociología de la cultura, el presente trabajo constituye un análisis crítico de la psicología positiva, que se toma como ejemplo paradigmático del actual imperativo cultural de la felicidad. El contexto teórico es el de la individualización contemporánea y la cultura psicoterapéutica, que preconizan una concepción del yo reflexiva y autoconstituida, al margen de una comprensión moral y social de la identidad personal. He estudiado las técnicas para lograr la "positividad", constituyendo su análisis crítico el grueso de este trabajo. Asimismo he analizado los valores, los lenguajes morales de la psicología positiva y las tensiones de los diversos repertorios de significado. He tratado los textos que se encuentran a medio camino entre la psicología científica y la popular, que sirven como ejemplos de la literatura de consejos, que contiene normas explícitas de conducta y alude a las buenas y malas emociones, con la intención de definir un modelo de identidad personal concreto.
The following article is a work in sociology of culture in which I analyze critically contemporary positive psychology as a paradigmatic case of the present cultural imperative to be happy. The theoretical context is the process of individualization and the therapeutic culture. Both have been building an ideal of the self as reflexive and self-constituted opposed to the self as morally and socially embedded. The critical analysis of the techniques to reach "positivity" is the bulk of this article. I have studied also the values of positive psychology, its moral languages and the inner tensions in the different repertoires of meaning. I have analyzed books on positive psychology that are in between scientific and popular psychology. These texts belong to advice literature since they openly recommend following specific rules of conduct. They also define good and bad emotions. Therefore, they intend to define a specific ideal of personal identity.
Collections