Publication:
Ciudad fragmentada y espacios de riesgo: lógicas de gestión securitaria en Madrid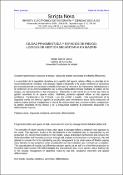 Advisors (or tutors)
Editors
Abstract
La centralidad de la seguridad ciudadana en la gestión del espacio urbano refleja un abordaje de lo social relativamente novedoso. Este abordaje, ligado al desarrollo de la ciudad neoliberal, se caracteriza por la producción de una sociedad funcional al mercado, la renuncia a los mecanismos redistributivos y la contención de las disfuncionalidades que la propia desigualdad produce mediante el análisis de los riesgos y la sobreactuación en las emergencias. Trataremos de dar cuenta de las formas que cobra la gestión securitaria en el espacio urbano madrileño, poniendo especial énfasis en dos espacios periféricos –Carabanchel y San Cristóbal– y en otro central –Lavapiés–. Esta espacialización de la seguridad cuenta con diversos agentes de producción, pero intentaremos acotar dicha producción al sistema experto policial. Indagaremos en dos de las características que, a nuestro criterio, protagonizan la gestión securitaria de los riesgos y de la inseguridad subjetiva: la prevención situacional y la diferenciación espacial.
The centrality of citizen security in how urban space is managed reflects a relatively new approach to the social. This approach, linked to the development of the neoliberal city, is characterized by the production of a society that functions for the market, waives distributive mechanisms and contains the disfunctionalities that inequality produces through risk analysis and overaction in emergencies. We will attempt to uncover the forms adopted by security management in the urban space of Madrid, paying close attention to two peripheral areas (Carabanchel and San Cristóbal) and a central one (Lavapiés). This spacialization of security has different production agents but we will try to limit that production to the police expert system. We will investigate two characteristics that, in our opinion, play a leading role in the security management of subjective insecurity and risk: situational prevention and spacial differentiation.
Collections