Publication:
Asambleas al aire: La arquitectura ambulatoria de una política en suspensión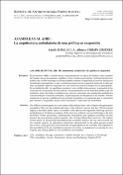 Advisors (or tutors)
Editors
Publisher
Universidad de Jaén (España)
Abstract
El movimiento 15M se extendió desde su nacimiento por las plazas de Madrid y otras ciudades de España a través de asambleas populares. Estas constituyen el método y la forma del ejercicio político que el 15M despliega en el espacio público urbano. Organizadas a través de una precisa metodología, las asambleas al aire constituyen un ejercicio de ocupación rítmica de la calle que sitúa en el primer plano de su práctica no sólo el discurso sino los cuerpos de sus participantes. En su habitar la calle, las asambleas ejecutan el gesto político más genuino: la aireación de las cosas que nos conciernen. En este artículo nos preguntamos por la atmósfera política que las asambleas traen a la ciudad y señalamos dos aspectos singulares: una arquitectura ambulatoria caracterizada por el tránsito constante y la preocupación por las prácticas de cuidado. Nuestro argumento es que las asambleas al aire ejecutan una política en suspensión que se caracteriza por exponer su fragilidad y hacer visible sus mismas condiciones de posibilidad.
The 15M movement spread out in the streets of Madrid and other cities of Spain through popular assemblies. They are the method and form of the political exercise that the 15M movement deploy in the urban public space. Assemblies in the open air are organized following a precise methodology of rhythmic occupation of the street in a political exercise that brings to the fore the bodies of their participants. Inhabiting the urban public space popular assemblies put into practice the most genuine political gesture: that of airing things that concern us. We explore in this article for the political atmosphere that assemblies bring to the city and we point out two singular aspects: an ambulatory architecture characterized by the urban passing around and a set of caring practices preoccupied by the participants in the assembly. Our argument is that assemblies in the air constitute an exercise of politics in suspension by exposing its own fragility and making public its own conditions of possibility.
Collections