Publication:
Apuntes sobre la vivencia de la sexualidad entre la juventud marroquí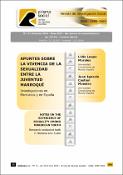 Advisors (or tutors)
Editors
Publisher
Fundación iS+D para la Investigación Social avanzada
Abstract
La sexualidad constituye un aspecto fundamental de la existencia humana. Se encuentra profundamente relacionada con las distintas maneras de sentirse hombre o mujer, al tiempo que intensamente condicionada por el contexto social e histórico. Este artículo explora las vivencias en torno a la sexualidad de los jóvenes marroquíes en Marruecos y en España. La relevancia de un estudio semejante radica principalmente en el hecho de que estos informantes proceden de una sociedad en donde se articulan de un modo complejo una serie de elementos culturales de origen muy diverso (tradicionales, occidentales e islámicos). La coexistencia entre estos elementos tan diferentes no siempre es sencilla. La emigración a un país occidental añade todavía más complejidad a este cuadro inicial.
Sexuality is a fundamental aspect in the life of individuals. It is deeply related to the different ways of feeling like a man or a woman whilst profoundly conditioned by the social and historical context. This article explores the experiences of young Moroccans in Morocco and Spain in relation to sexual fact. The main focus of attention in such a study lies in the fact that these informants come from a society in which a series of cultural elements of very different origin (traditional, western and islamic) are combined in a complex manner. The coexistence of such different elements is not always easy. Migration to a western country makes this initial situation even more difficult.
Collections