Publication:
Study of the vascular age calculator as a tool to reduce cardiovascular risk in community pharmacies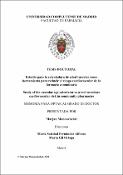 Files
Authors
Advisors (or tutors)
Editors
Publisher
Universidad Complutense de Madrid
Abstract
Background: Cardiovascular disease (CVD) is one of the leading causes of morbidity and mortality in Spain. According to the World Health Organization (WHO), 80% of these premature deaths are avoidable by reducing the modifiable risk factors of CVD. Research indicates that patients better understand their true risk when information is presented to them in vascular age (VA). Community pharmacists (CP) are well situated to assess patientsVA, provide professional educational advice, and implement interventions for reducing cardiovascular risk (CVR).Aim: The explicit objective of this thesis was to create a patient-centred, accurate and accessible tool that allows the CPs in Spain to estimate the VA and design a personalized intervention aimed at reducing the patient's VA.Method: A website was created and included an original questionnaire, the vascular age calculator (VAC), detailed protocols for the pharmacist's intervention and the patient's information leaflets on CVR factors. The webpage user's perceptions were analysed via a 26-item self-completion online survey distributed among CPs using a Google forum. Informed consent was taken from the CPs to participate in the study. The responses to the survey were collected anonymously. Open and closed questions were used to gain a wide range of replies and an in-depth understanding. The questionnaire from the pilot study was available online from the 1st August 2020 to the 31st of February 2021. The results were analysed using the STATA package version 12.0 (StataCorp LP, College Station, TX, USA). The NVivo software was used for assessing the descriptive findings...
Antecedentes: La enfermedad cardiovascular (ECV) es una de las principales causas de morbilidad y mortalidad en España. Según la Organización Mundial de la Salud, el 80% de estas muertes prematuras se podrían evitar reduciendo los factores de riesgo cardiovascular modificables. Diversos estudios indican que los pacientes entienden mejor su riesgo real cuando se les presenta la información en forma de edad vascular. Los farmacéuticoscomunitarios (FC) están bien posicionados para evaluar la edad vascular de los pacientes, proporcionar asesoramiento educativo profesional y aplicar intervenciones para reducir el riesgo cardiovascular (RCV).Objetivo: El objetivo explícito de esta tesis fue crear una herramienta centrada en el paciente, precisa y accesible que permita a los FC de España estimar la edad vascular y diseñar un plan de intervención personalizado encaminado a reducirla. Método: Se creó una página web que incluía un cuestionario original, la calculadora de la edad vascular, protocolos detallados para la intervención del farmacéutico y folletos informativos para el paciente sobre factores de RCV. Se analizó la percepción de los usuarios sobre la página web a través de una encuesta online de veintiséis preguntas distribuida entre los FC mediante un formulario de Google. Se obtuvo el consentimiento informado de los FC para participar en el estudio. Las respuestas a la encuesta se recogieron de forma anónima. Se utilizaron preguntas abiertas y cerradas para obtener una amplia gama de respuestas y de mayor profundidad. El cuestionario del estudio piloto estuvo disponible en línea desde el 1de agosto de 2020 hasta el 31 de febrero de 2021. Los resultados se analizaron con el paquete STATA versión 12.0 (StataCorp LP, College Station, TX, USA). Para evaluar los resultados descriptivos se utilizó el programa informático NVivo...
Description
Tesis inédita de la Universidad Complutense de Madrid, Facultad de Farmacia, leída el 29-11-2021
Collections