Publication:
El caballero, el monje y el templario: "La cuadratura del círculo", de Álvaro Pombo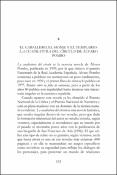 Advisors (or tutors)
Editors
Abstract
La cuadratura del círculo (1999) es una de las mejores novelas escritas por Álvaro Pombo, uno de los autores más relevantes en la literatura española actual.. En este trabajo se analiza las localización del argumento en el siglo XII, y en espacios que van desde Aquitania a la Tierra Santa de las Cruzadas. En él se presta especial atención a la "identidad inestable" de su protagonista, la evolución del encuentro en su conciencia de la fe religiosa y la razón.
La cuadratura del círculo (1999), is one the best novels written by Álvaro Pombo, a prominent author in contemporary Spanish literature. This work analyzes the places where the plot is developed, from Aquitania to the Holy Land, and pays special attention to the "unstable identity" of his protagonist, Acardo, the evolution of the encounter in his consciousness of religious faith and reason.
Collections