Publication:
Evaluación de los injertos alogénicos en bloque para regeneración horizontal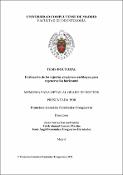 Files
Editors
Publisher
Universidad Complutense de Madrid
Abstract
Objetivos: El objetivo de este trabajo es evaluar la eficacia clínica de estos injertos alogénicos en bloque. En el primer estudio nos centramos en estudiar la tasa de reabsorción comparando dos aloinjertos con diferente microarquitectura, esponjoso y córticoesponjoso, además de evaluar otros factores que podrían influir en la reabsorción del bloque. El segundo estudio clínico evalúa la influencia de la decorticación del área receptora en la regeneración con bloques alogénicos esponjosos en maxilar. El último estudio se trata de un artículo de revisión que se centra en evaluar el papel de los osteocitos en la reabsorción y remodelado de los injertos.
Objectives: The aim of this work is to evaluate the clinical efficacy of the allogeneic bone block grafts. Two clinical trials were performed. The first one was focused on the resorption rate and factors that could affect it, two allografts with different microarchitectures, cancellous and cortico-cancellous, were compared. The second clinical study evaluates the influence of decortication of the recipient bed on allogeneic grafting with cancellous blocks in the maxilla. the aim of the last review article is to study the role and functions of osteocytes, for developing a biological hypothesis about the clinical behaviour of these grafts.
Description
Tesis inédita de la Universidad Complutense de Madrid, Facultad de Odontología, leída el 10-02-2022
Collections