Publication:
Be-FAST and Be-CoDiS: mathematical models to predict the spread of human and livestocks diseases with real data. Application to the 2014 Ebola Virus Disease epidemic and livestock diseases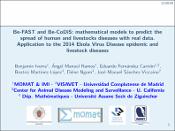 Advisors (or tutors)
Editors
Abstract
During this presentation, we introduce the mathematical formulation of a new spatial-temporal epidemiological model, called Be-CoDiS (Between-COuntries Disease Spread). Be-CoDiS is based on the combination of an Individual-Based model (modelling the interaction between countries, considered as individuals) for the between-countries spread with a compartmental model, based on ordinary differential equations, for the within-country spread. The goal is to simulate the spread of a particular disease and identify the risk zones worldwide. This model is a particular adaptation of a previous epidemiological software, called Be-FAST, used to predict the spatial spread of livestock diseases. Both Be-FAST and Be-CoDiS models are detailed and some real applications, such as the study of the 2014 Ebola Virus Disease epidemic or the Classical Swine Fever in Spain, are shown.
Citation
1. A novel spatial and stochastic model to evaluate the within and between farm transmission of classical swine fever virus: I. General concepts and description of the model. Veterinary Microbiology. 147: 300-309. Elsevier. 2011. 2. A novel spatial and stochastic model to evaluate the within and between farm transmission of classical swine fever virus: II Validation of the model. Veterinary Microbiology. 155: 21-32. Elsevier. 2012. 3. Evaluation of the risk of classical swine fever (CSF) spreadfrom backyard pigs to other domestic pigs by using the spatial stochastic disease spread model Be-FAST: The example of Bulgaria. Veterinary Microbiology. 165: 79-85. Elsevier. 2013. 4. Mathematical formulation and validation of the Be-FAST model for CSF Virus spread between and within farms. Annals of Operations Research. 219: 25-47. 2014 5. A multi-analysis approach for space-time and economic evaluation of risks related with livestock diseases: The example of FMD in Peru. Preventive Veterinary Medicine. 114: 47-63. 2014 6. Be-CoDiS: An epidemiological model to predict the risk of human diseases spread worldwide. Application to the 2014 Ebola Virus Disease epidemic. Preprint arXiv: http://arxiv.org/abs/1410.6153